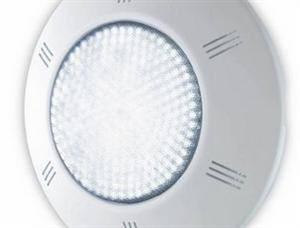 Seamaid Inground Pool Coloured LED Light with remote control
Par56 RGB Lamp
Colour RGB Makes All Colours
270 Leds ultra-bright 5mm
11 Static colours and 5 automatic modes
Control On/ Off manual with memory and/ or radio remote controller
External Connection 2 screw terminal
operating Voltage 12V AC / 50-60hz
Current 1.2A +/- 10% max (AC 12V)
Consumption 15w +/- 10% (AC 12V)
Dimensions Dia 290mm, high 75mm
Protection Value IP68 100% water proof
18kw and 24kw available
2 year Guarantee
Suitable for Liner and Concrete Pools
No Niche Required
DELIVERY: We aim to send all products out on a next working day service but all standard deliveries will be within 5 working days
RETURNS: This product can be returned in original packaging, suitable for resale, within 14 days from date of delivery.
PRODUCT INFO:
Seamaid Inground Pool Coloured LED Light with remote control
Seamaid Inground Pool Coloured LED Light Complete Kit 18Kw or the new 24kW is a fantastic new product on the market and unbelievably good value compared to other LED lights, comes complete with remote control to change the mood of your pool. These lights can be retro fitted and offer significant savings when compared to the running costs of a traditional 300 watt underwater pool light.
The Seamaid Inground Coloured LED Swimming Pool Light is a complete kit with all the necessary equipment such as wall fixing kit, conduit, transformer and the actual light itself. We have put these items together for a complete kit and offer this a discounted price. If you are having more than a single light you will only need one transformer for every 5 x 18W, we have listed lights only which comes with cable, Light Bulb and light housing to add to shopping cart if more than 1 light is required. If this is a new build we have also listed a completed kit which includes Transformer, Deck Box, Conduit, Cable, Light Housing, Light Bulb and wall fixings.
A Unique patented inbuilt protection device ensure that the LED bulb is protected from over heating or high electrical volt surges prevent premature failure.
Introducing an LED lighting system that requires no tools to fit to your pool structure! The unique (patented) UNIVERSAL FLAT LIGHT SYSTEM that is secured to the pool wall by simply screwing into a dedicated standard 1.5" threaded female (supplied) fitting!
Conventional light systems require an approximate 300mm diameter internal housing (niche) to be installed into the pool wall structure to house the lighting system. This is time consuming and prone to leaks if not installed correctly. Installing the Seamaid LED lighting system is far easier, quicker and more reliable!
Also ideal for all liner & concrete refurbishment! Many pool lighting replacement parts are no longer available. By installing a threaded fitting or conversion kit into an existing niche housing a universal flat light can be installed. Why not consider adding another light! Simply fit another inlet into the pool wall and make the necessary electrical connection - talk to your pool dealer for more details. The 2 metre power supply cable is connected through a 1.5" inlet fitting to an electrical connection box (provided).