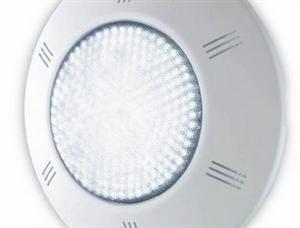 Seamaid Inground Pool WHITE 24w LED Light with remote control
by Seamaid
Seamaid Inground Pool White  LED Light with remote control
LED Quantity 270 Leds ultra-bright 5mm
Diffusion Angle 40/45 deg
Programmes 11 Static colours and 5 automatic modes
Control On/ Off manual with memory and/ or radio remote controller
Luminous Flux 370 lumnens +/- 10%
External Connection 2 screw terminal
Bulb Material Polycarbonate lens ABS cup
Dimensions Dia 290mm, high 75mm
Net Weight 650g
Protection Value IP68 100% water proof
24kw available
2 year Guarantee
Suitable for Liner and Concrete Pools
No Niche Required
DELIVERY: We aim to send all products out on a next working day service but all standard deliveries will be within 5 working days
RETURNS: This product can be returned in original packaging, suitable for resale, within 14 days from date of delivery.
PRODUCT INFO:
Seamaid Inground Pool WHITE LED Light with remote control
Seamaid Swimming Pool White LED lights are the ideal choice for upgrading your existing swimming pool lighting system or for new builds, Cost savings on LED compared to Halogen is significant and LED lights are brighter!!. The Seamaid LED Lights are in stock and delivered on a next working day service. One transformer can manage up to 5 lights so multiple lights can be installed.
Seamaid Light complete kits comes with a transformer, Deck Box, Conduit and Wall fitting kit. If you are going for more than one single light you will only need 1 transformer every 4 x 24W. 
LED lights are replacing Halogen because of the cheap running cost and the quality of LED compared to Halogen. The LED are far brighter than halogen and over the past year new LED lights have come into the swimming pool market which are even more brighter than previous. Installing an LED light does not require major work or involve high installation costs. The Seamaid LED lighting system requires no tools to fit to your pool structure! The unique (patented) UNIVERSAL FLAT LIGHT SYSTEM that is secured to the pool wall by simply screwing into a dedicated standard 1.5" threaded female (supplied) fitting!

Conventional light systems require an approximate 300mm diameter internal housing (niche) to be installed into the pool wall structure to house the lighting system. This is time consuming and prone to leaks if not installed correctly. Installing the Seamaid LED lighting system is far easier, quicker and more reliable!

Also ideal for all liner & concrete pool refurbishment! Many pool lighting replacement parts are no longer available. By installing a threaded fitting or conversion kit into an existing niche housing a universal flat light can be installed.
Ultimately, sizing the lighting for a pool is down to the personnal preferences of the individual. What may be suitable for one may not be for the another! You need to decide what type of lighting is required i.e. subtle, harmonised coloured lighting using RGB lenses or the more traditional white lighting. Surround pool lighting should also be taken into consideration.

As an example for a 10 x 5m pool we would recommend that 2 x LED lights (one per 25sqm) are installed (on opposite sides) distributed equally along the length of the pool.

If in doubt, why not install another inlet fitting into the pool structure so that you can add another light in the future!