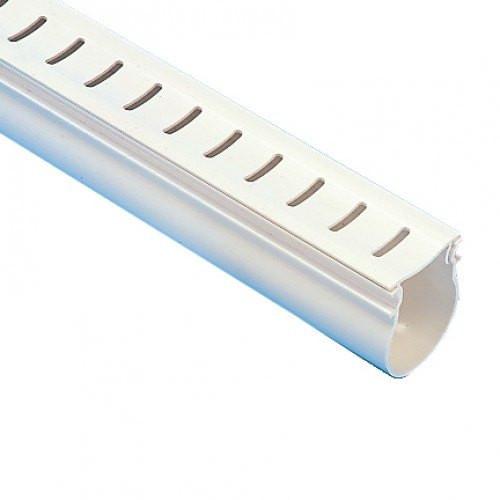 Swimming Pool Drainage System
3m Length Drainage Pipe
Removable Top Section For Easy Access
Rigid PVC
3 Nailing Clips are required per 3m length
Made for 1 1/2" Pipework
DELIVERY: Easy Drain Plus is sent out via a specialist carrier. Delivery will normally take between 1-3 days, but please allow 5 working days in some extreme cases.
RETURNS: Easy Drain Plus can be returned to us, in compliance with the Consumer Contracts Regulations, unused and in their original packaging, suitable for resale, within 14 days from date of delivery. Returns should always be sent via "Signed For" carrier or postal service.
.

When a return is received back into our warehouse our returns department confirm that everything is present and that the item is in its original condition, to make sure it is eligible for a refund. We will process the refund normally on the same day we take them in, but please allow up to a maximum of 14 working days for the money to reach your bank or credit card. It is unlikely to take this long but due to reasons such as bank delays or errors, this may occasionally occur.
PRODUCT INFO:
3m Length Of Easy Drain Plus Swimming Pool Drainage Pipe
Easy drain plus is a rigid PVC drainage system ideal for use on your indoor pool, the drainage channels will get rid of that unwanted water that sittings around your pool caused by splashing. Available in 3m lengths and a range of different fittings to suit every pool.
Easy Drain Plus is an easy but effective way of draining excess water from around your swimming pool, spa or shower area. It comes in 3 metre lengths and can be cut to any size sections, making it very easy to install and adaptable to most applications. Each section has a removable lid, so when it comes to cleaning and maintenance work around the pool area it is very straight forward.
Easy Drain Plus is Manufactured from high grade white PVC and the lid section is also available as a spare part too. This allows you to refurbish the swimming pool surround in the future cheaply and quickly, by simply replacing the top section only.
Easy Drain is very adaptable as it can take standard 1.5" pipe work and 50mm pipe work and is suitable for domestic application only.  
All Easy Drain Plus are made to the standard coping height of 68mm and each 3 metre Length requires three nailing clips