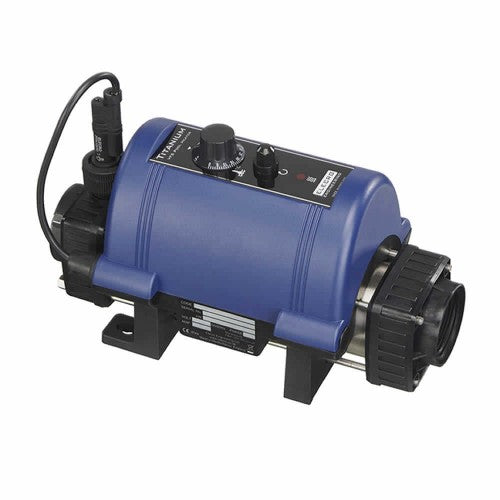 Nano Splasher Swimming Pool Heater
Plug & Play Heater
3kw Incoloy 825 Heating Element
Comes with Power Cord, Plug and Flow Switch
DELIVERY: Nano electro heaters are sent out via a specialist carrier. Delivery will normally take between 1-3 days, but please allow 5 working days in some extreme cases.
RETURNS: Nano Splasher Plug and Play Heater can be returned to us, in compliance with the Consumer Contracts Regulations, unused and in their original packaging, suitable for resale, within 14 days from date of delivery. Returns should always be sent via "Signed For" carrier or postal service.

.

When a return is received back into our warehouse our returns department confirm that everything is present and that the item is in its original condition, to make sure it is eligible for a refund. We will process the refund normally on the same day we take them in, but please allow up to a maximum of 14 working days for the money to reach your bank or credit card. It is unlikely to take this long but due to reasons such as bank delays or errors, this may occasionally occur.
PRODUCT INFO:
3kw Nano Splasher 2021 Plug & Play heaters are designed to ensure maximum safety, reliability and efficiency. These Incoloy 825 heaters are designed for small pools and as such are user-friendly and offer plug & play installation. The thermostat dial gives you control over the desired pool temperature, while the thermal safety cut-out avoids over-heating.
Robust and reliable, the Nano Splasher heater is made to last, affording you the perfect pool temperature with easy to use controls.
All Elecro electric heaters feature their unique and proven coiled heating element technology whereby a turbulent vortex is created in the water flow. This delivers outstanding efficiency and extended life expectancy by preventing the build up of mineral deposits on the heating element.
The Nano Splasher heater can be vertically wall-mounted or stand on the floor with the control components on the top face casing. Screw fit adapters are supplied to allow connection to standard above ground pool flexible pipe work, while the water inlet and outlet fittings can be connected to either metric or imperial standard pipes.
Safety and equipment protection is provided by a flow switch that operates from as low as 1000 litres per hour. Over-heating protection is provided by a thermal cut-out with manual reset.