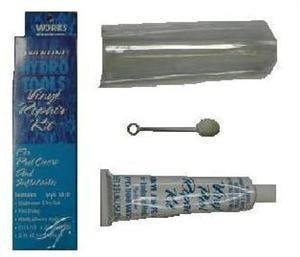 Vinyl Repair Kits Suitable For:

Inground Liner Pools

Above Ground Liner Pools

Intex Pools

Bestway Pools

O Blue & Other Summer Liner Pools
DELIVERY: We aim to send all products out on a next working day service but all standard deliveries will be within 5 working days.
RETURNS: All products can be returned in original packaging, suitable for resale, within 14 days from date of delivery.
PRODUCT INFO:
Repair Kits For Swimming Pool Vinyl Liners. Clear Vinyl Strip & Vinyl Adhesive perfect for repairing inground and above ground liners swimming pools.
 How Do I Repair A Vinyl Liner?
Using our vinyl liner repair kit it is possible to patch a liner and make a repair either above or below the waterline. Each vinyl repair kit comes with a tube of solvent adhesive, an applicator and a length of strong, clear PVC that, when applied to the Swimming pool liner wall or floor will waterproof the liner and negate the need to replace it.
Can I Use The Vinyl Repair Kit Underwater?
Our Vinyl Liner Repair Kits are suitable for use above or underwater. If using the repair kit underwater cut the clear vinyl into an Oval or Circle, apply the adhesive on one side, then fold that side onto itself so the adhesive is not visible. To apply the patch underwater you must then take the patch to the split or hole in the liner and then open it up and immediately apply to the liner wall or floor. Firm pressure must be applied for at least 30 seconds to allow the weld to happen and this will give you a strong repair.
Will The Repair Patch Match My Liner?
The Vinyl Liner Repair Kit uses Clear Vinyl, so it is compatible with any liner. It also compatible with any liner pool, whether it is an inground pool or an above ground pool. If you have an above ground pool we recommend adding a patch on both the outside and inside if possible.