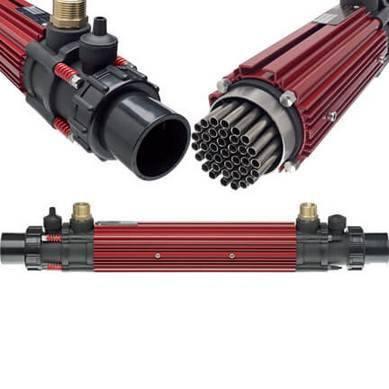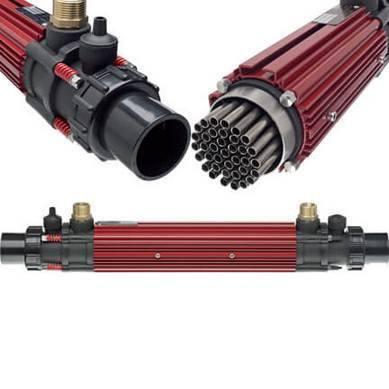 G2 Elecro Heat Exchanger
Effective way to heat your pool using your domestic energy supply
G2 heaters are designed for maximum heat gain
316 stainless steel shell, 38 piece internal titanium tube bundle
Works on salt and chlorine pools
DELIVERY: G2 Titanium Heat Exchangers will be within 5 working days
RETURNS: This product can be returned in original packaging, suitable for resale, within 14 days from date of delivery.
PRODUCT INFO:
The G2 Titanium Heat Exchanger is a robust and durable design, most efficient and reliable compared to all other branded heat exchanger on the market today. Elecro have manufactured 38 titanium tubes inside the unit so it can withstand salt water applications and has a 316 stainless steel shell with special polyamide fittings
The Elecro Generation II Titanium Heat Exchanger has been designed for the user to select which way the primary and secondary water is to be plumbed to achieve maximum heat potential. This is achieved by turning the primary hot water flow in an opposing direction to the secondary cold water.
The Generation II Elecro Titanium heat exchanger operates via the primary hot water travelling through the titanium tubes inside one way and the secondary pool water travels the opposite way contacting the hot tubes on its way through, this is repeated and over a period of time will cause the secondary pool water to heat up. The elecro Generation II Titanium Heat Exchanger is easy to use and install with its 1.5" connections for rigid pipe to be solvent welded into and then can be unscrewed for maintenance work if needed, ideal for indoor and outdoor swimming pools and great for chlorinated and salt water application too. 
Robust, Durable contraction
Wall Mountable (Bracket supplied)
316 Stainless Steel shell with special polyimide fittings
38 piece Titanium internal tube bundle
For indoor and outdoor swimming pools
Thermostat Pocket
Solvent weld unions for connections to rigid pipe
1.5" connections
Suitable for salt chlorinated and solar heated swimming pools