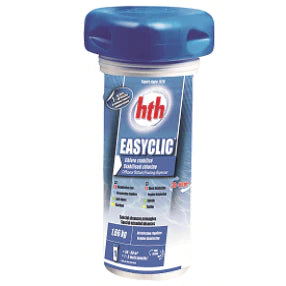 HTH Chemical Dosing Dispensor

Contains Chlorine Algicide and Clarifier
Lasts Up To 24 Weeks - Ideal For summer or Winter Use
Works Even With No Circulation
Kills Waterborne Bacteria
Slow Dissolving
DELIVERY: HTH 5 Buoy Floating Chlorine Dispenser Delivery will normally take between 1-3 days
RETURNS: HTH 5 Buoy Floating Chlorine Dispenser
can be returned to us, in compliance with the Consumer Contracts Regulations, unused and in their original packaging, suitable for resale, within 14 days from date of delivery. Returns should always be sent via "Signed For" carrier or postal service.

.

When a return is received back into our warehouse our returns department confirm that everything is present and that the item is in its original condition, to make sure it is eligible for a refund. We will process the refund normally on the same day we take them in, but please allow up to a maximum of 14 working days for the money to reach your bank or credit card. It is unlikely to take this long but due to reasons such as bank delays or errors, this may occasionally occur.

PRODUCT INFO:
HTH 5-Buoy are ideal for use when you want to add a small amount of chlorine over a longer period of time summer or winter period. The constant input of 'background' chlorination will reduce the risk of your pool becoming affected with algae or bacterial infection. Each 5-Buoy dispenser contains 1.66kg of Multifunctional Chlorine
Place the 5-Buoy in the deep end of the pool with narrow end downwards. Hold it partly immersed to exclude air, and ensure there is free water flow through the cartridge. Never submerge the blue buoyancy compartment.
Make sure the 5Buoy is floating vertically. With liner pools keep away from sides to avoid bleaching. 
The HTH 5 Buoy will float on its side when it is empty. At this time replace the old one with a new 5-Buoy Chlorine Dispenser.