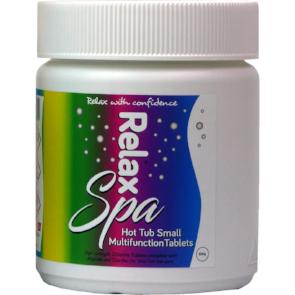 Relax Hot Tub 500g Multifunctional Tablets
by Relax
Relax Hot Tub Multifunctional Tablets 500g
Small Handy Sized Container with 20g x 25 Chlorine Tablets
Slow dissolving, High Strength tablets  that maintain a chlorine level longer than granules
Multifunctional Tablets Contains built in clarifier and algicide
Sould be used in a floating dispenser
DELIVERY: Delivery will normally take between 1-3 days, but please allow 5 working days in some extreme cases
RETURNS: This product can be returned to us, in compliance with the Consumer Contracts Regulations, unused and in their original packaging, suitable for resale, within 14 days from date of delivery. Returns should always be sent via "Signed For" carrier or postal service.

.

When a return is received back into our warehouse our returns department confirm that everything is present and that the item is in its original condition, to make sure it is eligible for a refund. We will process the refund normally on the same day we take them in, but please allow up to a maximum of 14 working days for the money to reach your bank or credit card. It is unlikely to take this long but due to reasons such as bank delays or errors, this may occasionally occur.
PRODUCT INFO:
500g Relax Hot Tub Multifunctional Tablets contain 25 x 20g high strength tablets. The Relax Hot Tub Multifunctional Chlorine Tablets help maintain clean and hygienic spa water. Relax Spa Multifunctional tablets contain clarifier and an algicide to help provide clarity by binding the dirt and debris so the filtration system can capture the particals.
Multifunctional Spa / Hot Tub Chlorine tablets are high strength and slow releasing and should be used with a floating dispenser. Available for fast next working day delivery.