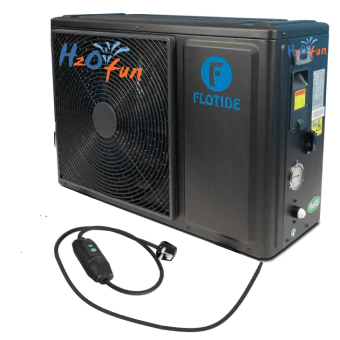 Flotide A10 9.6kw Above Ground Pool Heat Pump
Plugs Into A 13 amp Socket with a fitted RCD Plug
In Stock - 2-3 day lead time
Perfect Heater For Larger Intex & Bestway Pools
No Electrician Costs Needed To Hardwire In
Costs Less To Run Than A 3kw Bestway Electric Heater
2 Years Parts & Labour Warranty 

DELIVERY: Flotide A10 Plug & Play Above Ground Pool Heat Pumps are sent out on a 2 working day service
RETURNS: Flotide A10 9.6kw Plug & Play Above Ground Pool Heat Pumps can be returned unused, in original packaging, suitable for resale, within 14 days from date of delivery. Returns should be sent via a "Signed For" carrier or post. A Returns Number must be obtained before sending goods back.

.

When we receive the item, our returns department confirm that everything is present and in its in original condition to ensure its eligibility for refund. We process refunds as quickly as possible. We process most refunds on the same day which they were received, but please allow up to a maximum of 14 days for the money to reach your account. It rarely takes this long, but can happen sometimes for reasons such as bank delays or errors..
PRODUCT INFO:
Flotide A10 Plug & Play 9.6kw Above Ground Pool Heat Pumps are designed for larger Intex & Bestway pools, up to 30,000 litres. This would equate to a 20ft x 12ft Bestway pool.
Flotide A10 Plug & Play Heat Pumps have an exceptionally high COP of 6, meaning you can get up to 6 times more heat into your pool than it will cost you in electricity.
Flotide A10 Plug & Play Heat Pumps will function down to an air temperature of 5°C, but as with any heat pump, the warmer the air the more efficient they are and the more heat transferred into your pool. The warmer the air the better!!
CALL US ON 01322 554 870 TO PURCHASE ANY ADDITIONAL HOSES YOU WILL NEED TO CONNECT TO YOUR POOL
When purchasing a heat pump large enough for your pool you would usually have to take into account the cost to be hard wired into mains by and electrician on its own spurs and RCD. The Flotide A10 Plug & Play Above Ground Pool Heat Pump is reasonably priced, user friendly and runs from a standard UK 13amp 3-pin plug. Everything you could want from a heat pump unit for an above ground swimming pool. 
Below is a guide that is is based on summer use with a good solar cover being used. 
Flotide A10 Plug & Play Above Ground Pool Heat Pump pools - Pools up to 30m3
Minimum Flow rate required 5.5m3/hr 
Supplied with 50mm sockets to connect to a bypass kit or hosetails. These can be purchased separately
We can also assist with the correct fittings you may need to install this heater. Fittings will depend on the make and model of your pool and how far away from the pool you want the heat pump situated. Please call us on 01322554870 for help and advise on heat pump installations
CALL US ON 01322 554 870 TO PURCHASE ANY ADDITIONAL HOSES YOU WILL NEED TO CONNECT TO YOUR POOL