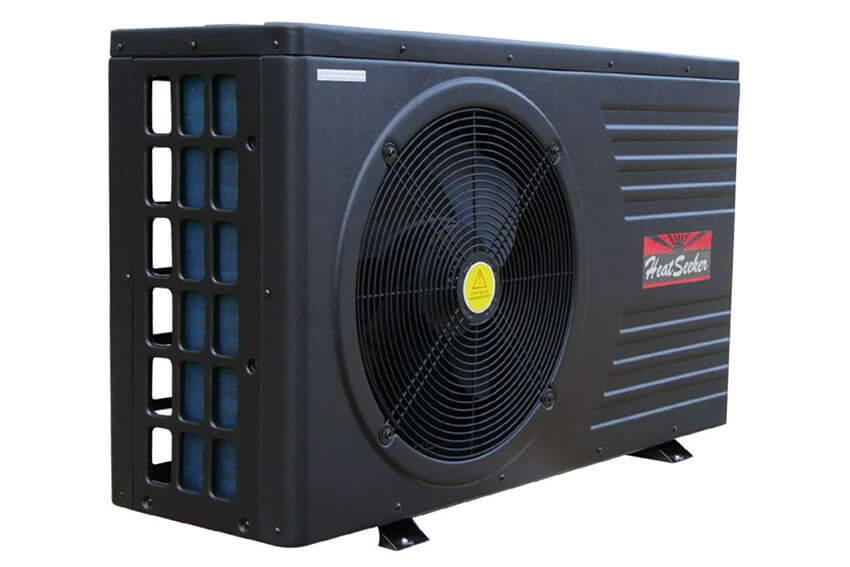 HeatSeeker Inverter Swimming Pool Heat Pump
by World of Pools.com
HeatSeeker Inverter Heat Pumps For Swimming Pools

4 New 2021 Models - 7.8kw to 21kw

Extended Summer Season Swimming Pool Heat Pump

Low Start Up Current - No Soft Start Required

Reverse Cycle Gas Defrost - 4 Way Valve

R32 Refrigerant Gas

ABS Shell

Ultra Quiet Operation.

 

5 Year Warranty On Heat Exchanger - 2 Year Parts Warranty 
DELIVERY: We aim to send HeatSeeker Inverter Heat Pumps out on a next working day service but all standard deliveries will be within 5 working days
RETURNS:
HeatSeeker Inverter Heat Pumps can be returned in original packaging, suitable for resale, within 14 days from date of delivery. Returns should be sent via a "Signed For" carrier or post.
.
When we receive the item, our returns department confirm that everything is present and in its in original condition to ensure its eligibility for refund. We process refunds as quickly as possible. We process most refunds on the same day which they were received, but please allow up to a maximum of 14 days for the money to reach your account. It rarely takes this long, but can happen sometimes for reasons such as bank delays or errors.
PRODUCT INFO:
Heatseeker Inverter Swimming Pool Heat Pumps new 2021 HSI range have been developed to compete with the very top end of the heat pump market.
The HeatSeeker Inverter is from the same manufacturer as the original "Heatseeker" so has been built with the same level of reliability and support associated with Plastica's well established brand. The HeatSeeker inverter technology increases efficiency, whilst dramatically reducing start up current, so will not require the fitting of an additional soft start.

Heatseeker Inverter Swimming Pool Heat Pumps are one of the best performing heat pumps in the market. Unlike many other heat pumps available in the UK, the output of the Heatseeker Heat Pumps is based on 15 degrees Celsius air temp, which is a realistic temperature for the UK. Most other models including the Hydropro range calculate their output at 27 degrees which means their actual output at 15 degrees is dramatically less, as an example the Hydropro Inverter 17 and Heatseeker Inverter 12.5 produce approximately the same heat at 15 degrees Celsius. The Heatseeker Inverter Heat Pump offers an exceptionally efficient and cost effective means of heating pool water. Low running costs and an ultra quiet operation make the HeatSeeker Inverter and exceptional choice for your swimming pool heat pump.
An integral fan draws air across an evaporator, heat from the airflow is captured by the refrigerant flowing through the evaporator. Having extracted the heat from the air, the refrigerant is condensed and its heat then transferred to the passing pool water via the HeatSeekers heat exchanger.
Heat pump technology is reliable, environmentally friendly and extremely cost effective.
This sizing chart assumes that a pool is being heated from May to September, the desired pool temperature is 29 degrees C, the ambient air temperature is not less than 15OC and a heat retention cover is used. Although the HSI Range remains efficient down to 7 degrees C.
| | | | | | | | |
| --- | --- | --- | --- | --- | --- | --- | --- |
|  HeatSeeker Inverter Model | Type C MCB (A) | Running Current (amps) | Noise (1m & 3m) | Net Weight | Optimum Flow | Rated Heating Output | Max Pool Volume |
| HSI078 7.8kw | 13 | 5.5 - 2.6 | 52-46dB | 48kg | 3.4m3/h | 8.02kw - 4.09kw | 25m3 |
| HSI125 12.5kw | 16 | 11.18 - 4.99 | 58-47dB | 49kg | 5.4m3/h | 12.64kw - 7.86kw | 50m3 |
| HSI170 17KW | 25 | 15.41 - 5.15 | 58-52dB | 64kg | 7.3m3/h | 16.kw - 9.54kw | 70m3 |
| HSI210 21KW | 32 | 17.82 - 7.5 | 58-52dB | 89kg | 9.0m3/h | 23.48kw - 13.28kw | 85m3 |
Plastica HeatSeeker Inverter Heat Pump Features :
Proven reliability
Ultra Quiet Operation

Titanium heat exchanger
High efficiency compressor
Self diagnostic
Fully programmable
Quick and easy installation
ABS Casing
Very quiet operation

Reverse cycle defrost
Soft start typically lowers start-up amps by at least 50%
If you would like help choosing which Heatseeker Inverter Heat Pump is most suitable for your swimming pool please call us on 01322 554 870. We will be more than happy to help.