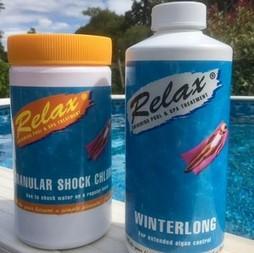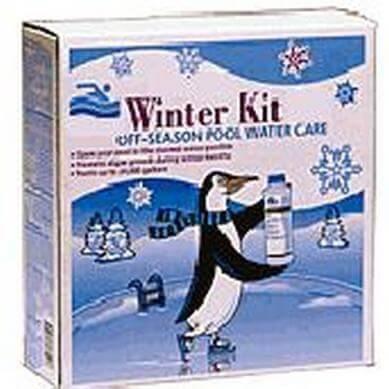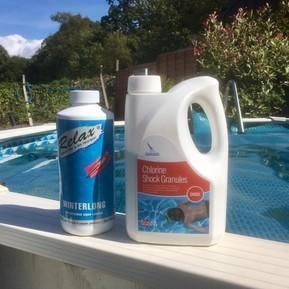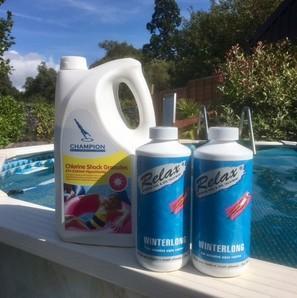 Winter Closing Chemical Kit For Swimming Pools
by World Of Pools.com
Winter Closing Chemical Kit For Swimming Pools
Winterizing Swimming Pool Kit for Small, Medium and Large Pools
Copper Based Concentrate Winterlong Algicide
Premium Pool Chemicals to keep your pool clean over Winter
DELIVERY: Winter Closing Kit will normally take between 1-3 days, but please allow 5 working days in some extreme cases.
RETURNS: Winter Closing Kit can be returned to us, in compliance with the Consumer Contracts Regulations, unused and in their original packaging, suitable for resale, within 14 days from date of delivery. Returns should always be sent via "Signed For" carrier or postal service.

When a return is received back into our warehouse our returns department confirm that everything is present and that the item is in its original condition, to make sure it is eligible for a refund. We will process the refund normally on the same day we take them in, but please allow up to a maximum of 14 working days for the money to reach your bank or credit card. It is unlikely to take this long but due to reasons such as bank delays or errors, this may occasionally occur.
PRODUCT INFO:
Winter Pool Chemical Kits will provide you with the essential water treatment products to keep your swimming pool clean throughout the winter months. Winterise you pool correctly will help avoid costly repair bills and leave you with a clean pool to start the new season. Our Relax and Champion Brand Winter Swimming Pool Chemicals have been packaged to suit all styles of swimming pool.
Should you shock pool before closing?
Quick answer is Yes. It is important to balance the pH and shock the pool prior to adding winter algicides. Make sure you shock the pool one day prior to adding the winter algicide
Swimming Pool Winter Closing Kits for Closing Small, Medium and Large Pools
When closing your swimming pool for winter it is vital you protect the swimming pool as much as you can, large scale units such as heat pumps and pumps have their own manufactures guidelines you should followed for winterising. But keeping the water intact and protecting your pool liner from staining is the same across the board. The pool should be shock treated first with a powerful oxidizing agent that helps burn off any remaining impurities and leaves your pool clean and clear before you add the Winter algaecide. 
Relax and Champion Granular Shock – An easy method for shock dosing your swimming pool water. An effective way to deal with water problems and restore clear sparkling water. To ensure safe to use of your pool, maintain a free level between 1-3 ppm and a pH level of between 7.2 and 7.6
Small - Closing Pools For Winter up to 35 cubic metres - Max Pool Size 24ft x 12ft - 1kg Relax Power Shock Granules & 2 x 1 Litre Relax Concentrated Winterlong Copper Algicide
Medium - Closing Pools For Winter up to 50 cubic metres - Max Pool Size 28ft x 14ft - 2kg Relax Power Shock Granules & 3 x 1 Litre Relax Concentrated Winterlong Copper Algicide
Large - Closing Pools For Winter up to 100 cubic metres - Max Pool Size 40ft x 20ft  - 5kg Champion Power Shock Granules & 6 x 1 Litres Relax Concentrated Winterlong Copper Algicide
Please Call or email us if you need help or advice on closing your pool for the winter