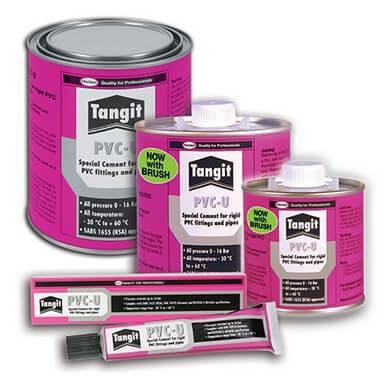 Tangit Swimming Pool Pipe Adhesive PVC
by World Of Pools.com
Tangit Adhesive Is Ideal For PVC Swimming Pool Pipes & Fittings
Suitable For Systems Operating Up To 16 Bar
Resistant Against Chemicals
In Stock For Immediate Delivery
DELIVERY: We aim to send all products out on a next working day service but all standard deliveries will be within 5 working days
RETURNS: This product can be returned in original packaging, suitable for resale, within 14 days from date of delivery.
Tangit all pressure glue, for swimming pool fittings, Koi pond fittings, Suitable for pressurised and unpressurised PVC systems and chemically treated water.
Tangit Products have been purfected on over 40 years of extensive research and experience, thus ensuring consistent outstanding product quality. This is why tangit gives you a unique guarantee bond and also resistant to acid and gases.
Tangit PVC-U special adhesive for joining pressure pipes made of PVC, cable ducting and drainage pipes.
Recommended Uses
Water supply (swimming pools, koi ponds etc)

 

 
Distilled water
Water waste
Refrigerating brine
Sea water
Plant and apparatus
Food and beverage industry
Chemically treated water
Note: 125gram tube does not include brush