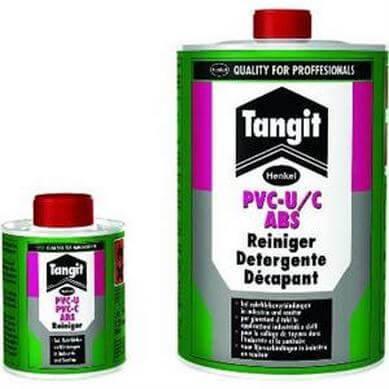 Tangit PVC & ABS Cleaner For Swimming Pool Pipe
by World Of Pools.com
Tangit PVC & ABS Cleaner For Swimming Pool Pipe
Solvent To Remove Grease & Dirt Before Gluing
Ensures Best Weld Results On Pipework
In Stock For Immediate Delivery
Solvent cleaner is used for the removal of grease and oily deposits on the surfaces of pipe, pipe fittings.
PVC / ABS Pipe cleaner is a special blend of solvents formulated to clean all PVC and ABS pipework prior to cement welding or glueing together. This PVC / ABS Pipe cleaner will effectively removes unwanted oils, dirt and grease. It is essential that all joins are cleaned before applying cement/ glue to prevent the join from leaks.
Application is very simple, use a clean cloth/rag and gently submerse into the solvent and then gently wipe foreign matter away for a nice smooth finish of preparation of cementing the join together.
Note,
When making a threaded piece of pipe air tight/water tight you do not need pipe cleaner or cement, this would be bounded with simply adding PTFE Tape (please see related products below)