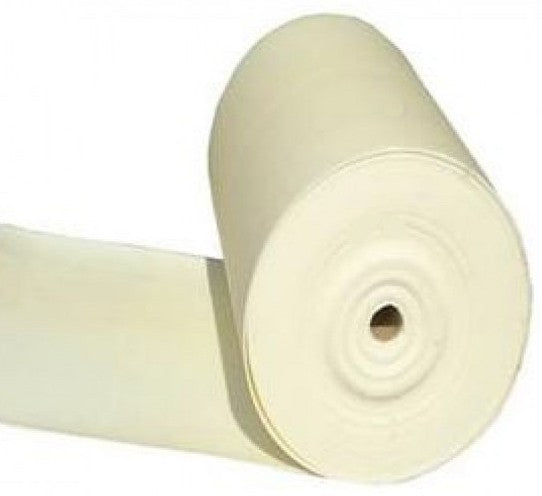 Swimming Pool Foam Underlay & Wall Insulation
by Plastica
8mm Foam Swimming Pool Underlay & Wall Insulation

50m Long Rolls in Two Width Sizes

7 Days A Week Installation Helpline from World of Pools.com

Quick & Easy Installation 

Feels Soft Underfeet
Protects the Liner & Improves The  Feel
Adhesive Spray in boxes of 12 x 500ml
Filament Tape Available
DELIVERY: We aim to send all products out on a next working day service but all standard deliveries will be within 5 working days
RETURNS: This product is produced to order and as such is classed as a special order and cannot be returned unless there is a manufacturers defect
PRODUCT INFO:
Swimming Pool Foam Underlay & Wall Insulation is designed to improve the feel of your swimming pool floor & walls whilst protecting the liner from the pool structure.
Available in 1.05m & 1.5m Width Rolls, both 50m long, Pool Foam Underlay is both quick & easy to install when fitting the new liner. Attach to the walls and floor using our Specialist Spray Adhesive and your pool will feel luxurious, whilst the protection the foam offers could add years to your swimming pool liner's life.
Foam underlay should not be used in high water table areas.
Use the chart below to estimate the number of rolls required, but do allow 10% for wastage.
| | | |
| --- | --- | --- |
| Standard Hopper Pool | Floor  Area m2 | Wall Area m2 |
| 10' x 20' | 24.2 | 18.6 |
| 12' x 24' | 34.8 | 22.3 |
| 14' x 28' | 47.3 | 26.0 |
| 14' x 30' | 50.7 | 27.2 |
| 15' x 30' | 54.3 | 27.9 |
| 16' x 32' | 61.8 | 29.7 |
| 16' x 38' | 73.4 | 33.4 |
| 18' x 36' | 78.3 | 33.4 |
| 20' x 40' | 96.6 | 37.2 |