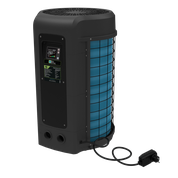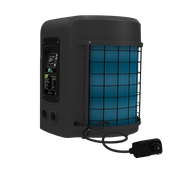 Sun Spring Plug & Play Above Ground Pool Heat Pump
by World of Pools.com
Sunspring 5kw to 12kw Swimming Pool Heat Pump
Swimming Pool Heat Pump That Plugs Into A 13 amp Socket
Extend Season May to September Works Down To 8

°

 

C
Great For Intex, Bestway & Other Above Ground Pools
15 Minute Installation With No By-Pass Required
DELIVERY: Sun Spring Heat Pumps are sent out via a specialist carrier. Delivery will normally take between 1-3 days, but please allow 5 working days in some extreme cases.
RETURNS: Sun Spring Above Ground Pool Heat Pumps can be returned to us, in compliance with the Consumer Contracts Regulations, unused and in their original packaging, suitable for resale, within 14 days from date of delivery. Returns should always be sent via "Signed For" carrier or postal service.

.

When a return is received back into our warehouse our returns department confirm that everything is present and that the item is in its original condition, to make sure it is eligible for a refund. We will process the refund normally on the same day we take them in, but please allow up to a maximum of 14 working days for the money to reach your bank or credit card. It is unlikely to take this long but due to reasons such as bank delays or errors, this may occasionally occur.
PRODUCT INFO:
The Sunspring Plug & Play Swimming Pool Heat Pumps are made especially above ground pools. These heat pumps, up to the 9kw, do not have to be hard-wired in, saving up to £500 on installation costs. As the 5, 8 & 12 Sun Spring Plug & Play Swimming Pool Heat Pump will plug into a 13 amp socket and does not require a by-pass, installation can be carried out in as little as 15 minutes by anyone. 
We have other ranges of Plug & Play Swimming Pool Heat Pumps available, which are less expensive than the Sunspring Heat Pump, but just as well made and all with 2 Year Warranties.
Poolstyle Mini 6 & 8 Plug & Play Above Ground Pool Heat Pump - Click Here
Flotide A10 9.6kw Plug & Play Swimming Pool Heat Pump - Click Here
To get the best from your Sunspring Heat Pump it is advisable to size the heat pump to the middle of its capabilities. To assist you in choosing the most suited Sunspring Heat Pump for your pool we have provided a guide of MAXIMUM POOL SIZES. If the volume of water in your pool is equal to or larger than the maximum volume it is always advisable to go for the next larger heat pump, as it will be easier to maintain your pool water temperature and potentially provide extended use outside the main 3 summer months.
Sunspring Heat Pumps Will Be Despatched Same Day If Ordered By 11 AM
For advice and help on choosing the Sunspring Heat Pump suitable for your pool please call us on 01322554870
Maximum Pool Size
Sunspring 5 Above Ground Pool Heat Pump  pools up to 12m3 - 15ft x 36" Metal Frame Pool
Sunspring 8 Above Ground Pool Heat Pump  pools up to 20m3 - 15ft x 48" Metal Frame Pool
Sunspring 12 Above Ground Pool Heat Pump  pools up to 30m3 - 18ft x 48" Metal Frame Pool
Minimum Flow rate required  
3m3/hr on Sunspring 5
4m3/hr on Sunspring 8
5m3/hr on Sunspring 12
Sunspring Heat Pumps come with graduated hose-tails to connect to 1.25" & 1.5" flexible hose. Also included are Glue Sockets for 50mm or 1.5" rigid pipe. In addition, no bypass kit is necessary.
The Sun Spring Heatpumps have a 2 Year Collect & Repair Or Replace Warranty. 
If you require help in sizing your heat pump or have any questions, please call us on 01322 55 4870