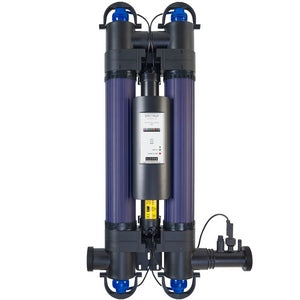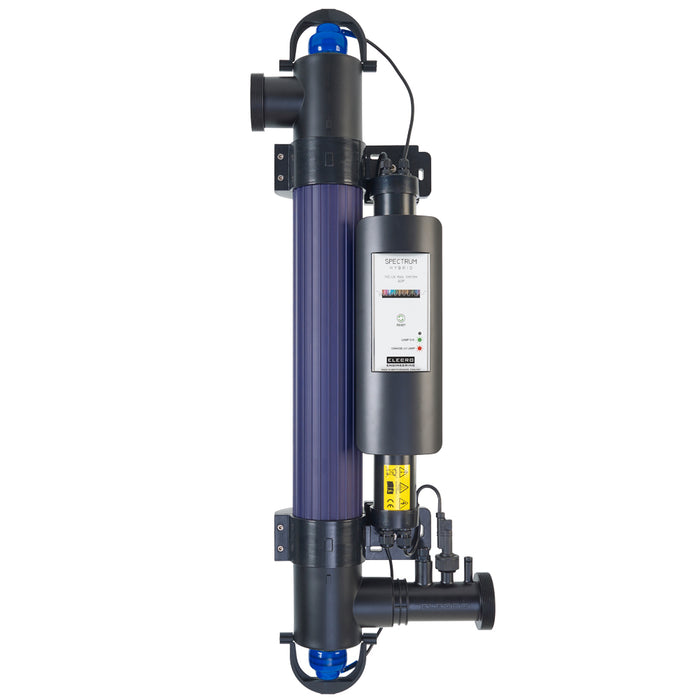 Spectrum Hybrid UV + HO By Elecro
by World Of Pools.com
•  For professional UV treatment of pools

•  Improves water quality and clarity

•  Reduces use of chemical treatments

•  Suitable for all pools up to 100m³ (100,000-litres)

•  Controls bacteria, micro organisms and pathogens 
DELIVERY: Spectrum Hybrid UV Systems are sent out via a specialist carrier. Delivery will normally take between 1-3 days, but please allow 5 working days in some extreme cases.
RETURNS: Spectrum UV Systems can be returned to us, in compliance with the Consumer Contracts Regulations, unused and in their original packaging, suitable for resale, within 14 days from date of delivery. Returns should always be sent via "Signed For" carrier or postal service.

.

When a return is received back into our warehouse our returns department confirm that everything is present and that the item is in its original condition, to make sure it is eligible for a refund. We will process the refund normally on the same day we take them in, but please allow up to a maximum of 14 working days for the money to reach your bank or credit card. It is unlikely to take this long but due to reasons such as bank delays or errors, this may occasionally occur.
PRODUCT INFO:
Elecro's Spectrum Hybrid is the next generation of UV water treatment. Providing a safe environment in clear water, the Spectrum Hybrid kills micro-organisms such as bacteria, viruses, chloramines and pathogens found in water, costing no more than a common light bulb to run. The next step in UV treatment, the unit creates Hydroxyl Radicals, which are essentially a water molecule with a Hydrogen atom removed, causing the molecule to be highly volatile and reactive. The exceptional mobility of the molecules that fill the reaction chamber leads to the destruction of pollutants in their path. Once the Hydroxyl  Radical has reacted with the pollutant it converts back into water.
Built to be installed easily into your existing set-up, all Spectrum Hybrid units are supplied complete with flow switch and the choice of either a lamp life indictor (which flashes 'Red' when the UV lamps are required to be changed after 9,000 hours) and reset switch; or a digital lamp life countdown and intelligent peristaltic dosing pump.
Activated titanium reaction chamber produces Hydroxyl Radical oxidisers, and increases the sterilising effiency by up to 45% compared to traditional UV's
Two Power Options:

55 Watts for flow rates up to 12m³/hour (50m³ pool volume)
110 Watts for flow rates up to 24m³/hour (100m³ pool volume)

Destroys micro-organisms such as bacteria, viruses, chloramines and pathogens, and provides a safe swimming environment in clear water
Costs no more to run than a common light bulb
Salt and sea water compatible
Reduces chemical requirement
3-year warranty
All Spectrum Hybrid units are supplied complete with flow switch and the choice of:
a) 9,000 hour lamp life indicator and reset switch or
b) Digital lamp life countdown and Intelligent dosing pump