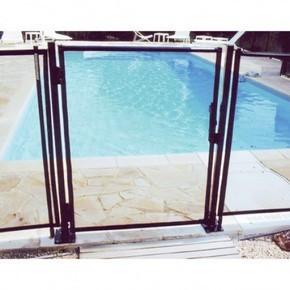 Self Closing Gate Concrete Fixing (1 metre wide)
by World Of Pools.com
Swimming Pool Safety Self Closing Gate
Improves Safety Around Pools & Ponds
Compliant With Strict French AFNOR NF P90-306 Legislation
Easy To Install & Rolls Up When Not Needed
DIY Installation - Concrete Or Soil Fixings
DELIVERY: Plastica Swimming Pool and Pond Safety Gate is sent out on a next working day service but all standard deliveries will be within 5 working days
RETURNS: Plastica Swimming Pool and Pond Rollaway Gate can be returned unused and in the original packaging, suitable for resale, within 14 days from date of delivery. Returns should be sent via a "Signed For" carrier or post.

When we receive the Safety Fence, our returns department confirm that everything is present and in its original condition to ensure its eligibility for refund. We process refunds as quickly as possible. We process most refunds on the same day which they were received, but please allow up to a maximum of 14 days for the money to reach your account. It rarely takes this long, but can happen sometimes for reasons such as bank delays or errors.
PRODUCT INFO:
The Self Closing Gate is an essential part of the Plastica swimming pool fence system. The gate is 1m and is a simple DIY answer to safety around water. The Plastica Swimming Pool Safety Fence has been designed as a fully removable fence for keeping children and pets away from swimming pools and ponds. The Pond & Swimming Pool Safety Fence is made from exceptionally strong plastic coated polyester mesh fixed to sturdy aluminium uprights that slot into ground fixings. Plastic Plugs are supplied to cover the open holes when the fence is removed.
Ensuring the safety of your Children, Grand-Children and Pets can give some swimming pool owners nightmares. Plastica Rollaway Swimming Pool Safety Fence is the simple and attractive solution. Reaching the exacting French AFNOR NF P90-306 Safety standard it will keep children and pets away from pools and ponds whilst being fully removable if not needed at alll times.
The Rollaway Swimming Pool Safety Fence comes in 1 metre sections which are 1.2 metres high. There are 5 lengths available up to 5m long, it is always advisable to buy the largest lengths when installing as this will reduce the amount of holes needed, i.e. a 24m requirement of fence around the pool would need 4 x 5m lengths, 1 x 3m and 1m gate. We can advise installation requirements if you call or email us.
The safety fence is removable so when removing the Plastica Swimming Pool Safety Fence it rolls up into a neat, lightweight package for easy storage.
Plastica Pond & Swimming Pool Safety Fence units is French made and is fully compliant with AFNOR NF P90-306, the French standards for safety barriers and comes with the certification to verify this. If this swimming pool safety fence is installed around a swimming pool in France the Safety Fence must be used in conjunction with a self-closing gate to conform to the law.