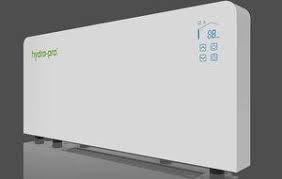 Hydropro Dehumidifier & Heater
by World Of Pools.com
Swimming Pool Dehumidifier with Heating
Available in three sizes 2.2lt 3.5lt and 4.5lt per hour
Function Defrost and Air Heating 
Super Silent just 44db
Slim Ultra Thin Casing only 6.5cm wide

Wall Mounted
DELIVERY: Hydropro Dehumidifiers delivery will normally take between 5 to 6 working days 
RETURNS: Dehumidifiers by hydropro can be returned to us, in compliance with the Consumer Contracts Regulations, unused and in their original packaging, suitable for resale, within 14 days from date of delivery. Returns should always be sent via "Signed For" carrier or postal service.

.

When a return is received back into our warehouse our returns department confirm that everything is present and that the item is in its original condition, to make sure it is eligible for a refund. We will process the refund normally on the same day we take them in, but please allow up to a maximum of 14 working days for the money to reach your bank or credit card. It is unlikely to take this long but due to reasons such as bank delays or errors, this may occasionally occur.
PRODUCT INFO:
Hydropro Dehumidifier with Heating are available in three sizes. Hydropro Swimming Pool Dehumidifer with Heater will keep your indoor pool or hot tub area free from condensation, replacing cooler wet air with dry warm air. Three sizes available for pool surface areas between 10cm2 and 20cm2. This would be suitable for pool rooms size between 45cm2 and 85cm2. 
This Swimming Pool Dehumidifier and Heater is Beautiful in design, slimline, super quiet and at a low price compared to other systems. Power requirement is incredibly low. For further information please call or email