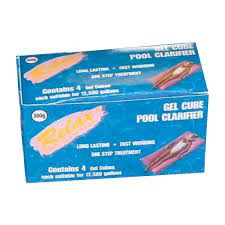 Relax Gel Cubes Pool Clarifier
by World Of Pools.com
Swimming Pool Clarifier

4 Cubes in each pack

Each Cube will treat 12,500 gallons of water
DELIVERY: We aim to send all products out on a next working day service but all standard deliveries will be within 5 working days
RETURNS: This product can be returned in original packaging, suitable for resale, within 14 days from date of delivery.
PRODUCT INFO:
Relax swimming Pool Gel Cubes are a long lasting and simple to use clarifier, Contains 4 cubes in a box and one relax gel cube can last up to 30 days. Using a gel cube in your swimming pool pump basket is one of the most popular methods to treat swimming pool water, restoring clarity to the water.
Gel cubes such as Relax gel cubes have been on the market for years and are one of the most popular clarifer products for swimming Pool, relax cubes are a high strength clarifier that will take out the smallest of particles providing you with sparkling clear water.
Manufactured by Plastica, the gel cubes are a long lasting and fast working solution for those cloudy swimming pools. The gel cubes work by removing the finer solids that are not nominally removed by swimming pool filters by congealing them together to make a larger solid for the filter to collect. Relax gel cubes work immediately after installation and will produce remarkable improvements on your pool within the first 24hours of the pump run time
Using relax gel cubes is safe and environmentally friendly method that will enhances the clarity, sparkles and polishes of your swimming pool water. The gel cubes releases a blend of active ingredients that bind and trap contaminants and residues. This will reduces the overall maintenance requirements of your pool.