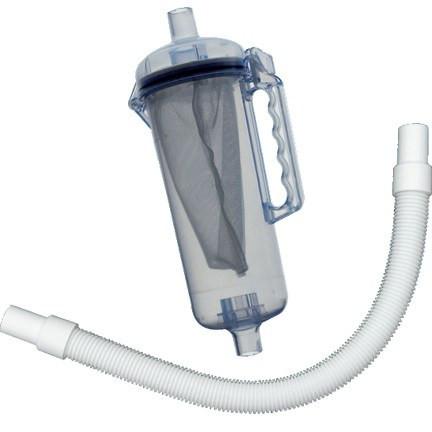 Rainbow Inline Leaf Trap
by World Of Pools.com
Increases the performance of your automatic pool cleaner
Reduces the waste going into your filter, reducing backwashing
Comes with 914mm flexible hose
Captures twigs, hair, stones
DELIVERY: Rainbow Leaf Traps are sent out via a specialist carrier. Delivery will normally take between 1-3 days, but please allow 5 working days in some extreme cases.
RETURNS: Rainbow Leaf Traps can be returned to us, in compliance with the Consumer Contracts Regulations, unused and in their original packaging, suitable for resale, within 14 days from date of delivery. Returns should always be sent via "Signed For" carrier or postal service.

.

When a return is received back into our warehouse our returns department confirm that everything is present and that the item is in its original condition, to make sure it is eligible for a refund. We will process the refund normally on the same day we take them in, but please allow up to a maximum of 14 working days for the money to reach your bank or credit card. It is unlikely to take this long but due to reasons such as bank delays or errors, this may occasionally occur.
PRODUCT INFO:
Rainbow InLine Leaf Trap For Swimming Pool Vacuum Hose
The Certikin Rainbow Leaf trap is ideal for when vacuuming your pool, simply attach the clever mechanism between your vacuum point and your vacuum head and this will catch any debris before it reaches the pump/filter.
The Rainbow Leaf Trap comes with a larger pre-filter then what comes with any standard pool pump so lesser emptying of the pump basket. A pump pre-filter comes with a grid mesh to stop stones and other larger debris from clogging up your impeller in your pump which is great but doesn't stop debris such as algae strands and pine leaves which will pass a pump basket and break the pump if too much is collected behind the impeller.
The Rainbow Leaf Trap comes complete with a very fine mesh net which catches absolutely everything before getting to your pump filter system
When vacuuming you swimming pool it's hard to see your pump basket is full whilst cleaning at the same time, the only tell-tale sign is if you notice the suction has slight lessened from when you originally started vacuuming. By this time you have push debris around the pool and the debris is now suspense in the water and can't be vacuumed and you now have to return a couple of hour later to pick up the suspended particles when settled down again.
When using the leaf trap it will always be within arm's reach at all times and can be easily changed to increase suction power. Made from a high grade clear plastic so you can see clearly when needing to be changed and strong enough not to be broken/crack under pressure or even when dropped.
Keeping the pre-filter in your pump empty will result in free flowing water and for you to gain 100% of your pumps velocity at all times, which makes a real difference when it comes to vacuuming your pool.
In the majority of swimming pool pumps they come with a small pre-filter with large grid like baskets to prevent stones going into the impeller of the pump which is great! But this doesn't stop build-up of algae and pine leave etc. Having these inside your pump can be costly to you as the pump will burn out or debris will simply brake the impeller and a new pump will have to be purchased.
If you have a pump which isn't cheap I would always recommend a leaf trap when vacuuming as this can result in a better clarity in cleaning and keep your pump intact. Comes complete with a heavy duty handle to carry debris away from the pool area and can also be used to tighten lid back on to make sure seal is completely sealed around the o-rind of the lid which is supplied also.