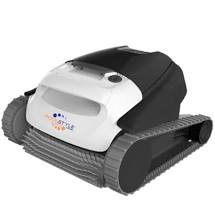 Poolstyle Robotic Pool Cleaner - Floor Only
by World Of Pools.com
Maytronic Poolstyle Robotic Pool Cleaner - Floor Only

For Inground & Above Ground Pools Up To 8m In Length - 12m Cable

1.5 Hour CleverClean Cycle Time

Lightweight - 6.3kg

Quick, Debris Free Water Release From Underneath

Made By The World's Leading Pool Cleaner Manufacturer

2-Year Warranty
DELIVERY: Poolstyle Pool Cleaners are sent out on a next working day service but all standard deliveries will be within 5 working days.
RETURNS: Poolstyle Cleaners can be returned to us, in compliance with the Consumer Contracts Regulations, unused and in their original packaging, suitable for resale, within 14 days from date of delivery. Returns should always be sent via "Signed For" carrier or postal service.

.

When a return is received back into our warehouse our returns department confirm that everything is present and that the item is in its original condition, to make sure it is eligible for a refund. We will process the refund normally on the same day we take them in, but please allow up to a maximum of 14 working days for the money to reach your bank or credit card. It is unlikely to take this long but due to reasons such as bank delays or errors, this may occasionally occur.

PRODUCT INFO: Poolstyle Robotic pool cleaner works on pools up to 8m. This is a great value robotic pool cleaner from the leading robotic pool cleaner manufacturer. The Dolphin Poolstyle Robotic Cleaner will brush, scrub and filter the pool floor, the cleaner has a scanning system for the ultimate in pool cleaning performance
Poolstyle Robotic Pool Cleaner has brushes that revolve at twice the speed of the forward and backward movement, meaning that the floors are scrubbed clean of algae and dirt.Poolstyle Robotic Pool Cleaner has filtration compartments that open at the top for convenient emptying and maintenance, complete with low voltage and low energy consumption with an automatic shut off at the end of the cleaning cycle time.
Maytronic Poolstyle Robotic Pool Cleaner - Floor Only
Recommended for pools up to 8m in length 
Floor only
Cycle time - 1.5 hours
Combined brush - for all pool finishes
Quick Debris Free Water Release
2 Year warranty (Excludes Consumable Parts inc. Brushes & Filter)