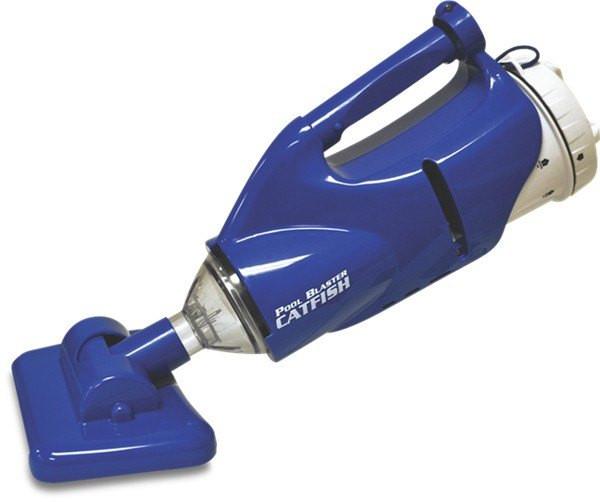 PoolBlaster Catfish Swimming Pool Vacuum Cleaner
by World Of Pools.com
PoolBlaster Catfish Swimming Pool Vacuum
Perfect For Small Pools and Hot Tubs
Lightweight and Easy to Use
Collects Dirt and Debris without affecting the filters
Battery operated so no cords or leads
Great Value
DELIVERY: We aim to send all products out on a next working day service but all standard deliveries will be within 5 working days
RETURNS: This product can be returned in original packaging, suitable for resale, within 14 days from date of delivery.
PRODUCT INFO:
PoolBlaster Catfish - A versatile, dual function battery operated cleaner for large spas, above ground pools and small in-ground pools. Like all PoolBlasters, the Catfish offers the convenience of hose and cordless free vacuum operation.
The Pool Blaster Catfish with its High-Flow pump tackles the largest of debris/algae in any pool, spa or hot tub. The innovative quick start button makes this cleaner very convenient and the Max-Cone Technology compacts all the dirt so more fits into the bag. The All Purpose filter bag has a very fine mesh so the smallest of debris is caught and is easy to empty so hands do not touch the dirt.
The PoolBlaster Catfish – Designed for Small Pools and Hot Tubs.
Top selling product that collects the debris other cleaners cannot. The catfish is one of the best-selling cleaner and unlike other pool and spa vacuums it will clean the pool and spa area fast and effectively.
The Poolblaster Catfish is a lightweight cleaner with uncompromised suction and cleaning power. This cleaner is small enough to navigate the waters of spas and fountains, but strong enough to clean above ground and in ground pools, the poolblaster Catfish can handle the toughest of debris with ease and efficiency.
Featuring an 8" vacuum head, the Catfish can be used to cover large areas of the pool, or the head can be removed, making the unit a powerful spot cleaner able to manoeuvre into corners and crevices smoothly. With the Catfish, you can clean the parts of your pool that need it quickly and efficiently, saving you time and energy. The Catfish is powered by environmentally safe, rechargeable Lithium batteries, allowing cordless and hose less operation for up to an hour of continuous use.
The Catfish's Max Cone Technology compacts gravel, dirt, leaves, and other types debris into its easy to empty, reusable filter bag. Affordable. Powerful. Versatile.
We hold these cleaners in stock and offer next working day delivery or visit our shop and collect