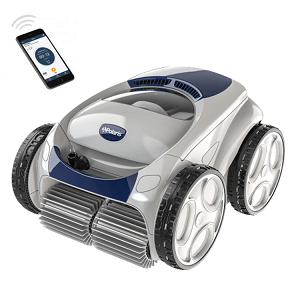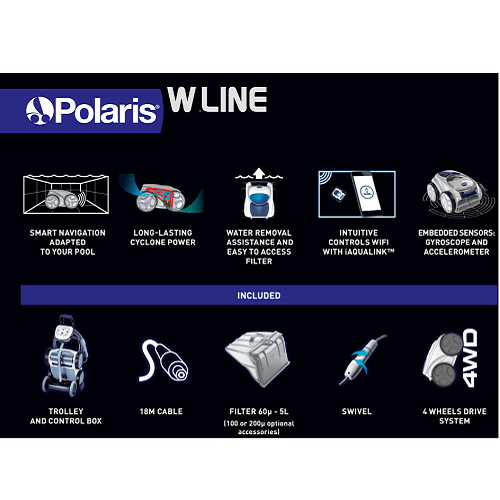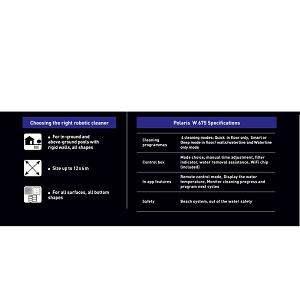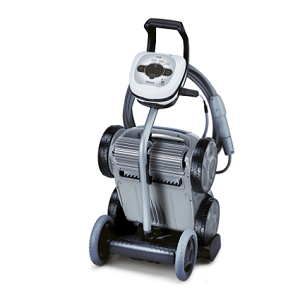 Polaris W LINE W675 Robotic Pool Cleaner - Floor, Walls & Waterline
by World Of Pools.com
Polaris W LINE W655 Robotic Pool Cleaner - Floor, Walls & Waterline

For Inground & Above Ground Pools Up To 12m x 6m

4 Cleaning Modes

For All Surfaces, all Bottom Shapes

Fine Control By App Or Control Panel
DELIVERY: Polaris W Line W675 Pool Cleaners are sent out on a next working day service but all standard deliveries will be within 5 working days.
RETURNS: Polaris W Line W675 Cleaners can be returned to us, in compliance with the Consumer Contracts Regulations, unused and in their original packaging, suitable for resale, within 14 days from date of delivery. Returns should always be sent via "Signed For" carrier or postal service.

When a return is received back into our warehouse our returns department confirm that everything is present and that the item is in its original condition, to make sure it is eligible for a refund. We will process the refund normally on the same day we take them in, but please allow up to a maximum of 14 working days for the money to reach your bank or credit card. It is unlikely to take this long but due to reasons such as bank delays or errors, this may occasionally occur.

PRODUCT INFO:
Polaris W Line W675 Robotic Pool Cleaner are manufactured to the highest specification, Polaris is the same cleaner as Zodiac with a different badge. 
Polaris W Line W675 Robotic Pool Cleaner come with two cleaning modes, Quick in floor only and Smart in floor / walls / waterline
Ideal for pools up to 12m x 6m all shapes and types including inground and above ground. Great value cleaner that will provide clean water and clean floors. Control box with Mode choice, filter indicator, water removal assistance, WiFi chip (included). In app features: Start/Stop cycle, Monitor cleaning progress. 
The Polaris W Line W675 comes with extra-large capacity 5L, 18m floating cable with Swivel and 4 Wheels Drive System. The Cleaner has a safety: Beach system, out of the water safety. Trolley and control box is included
Polaris W Line W675
4 Cleaning Modes:
Quick In Floor, Smart & Deep Modes Floor, Walls & Waterline & Waterline Only Mode
Control Box: Mode Choice, Manual Timing, Filter Indicator, Water Removal Assistance
In App Features: Remote Control Mode, Water Temp, Monitor Cleaning & Next Cycle
Safety: Beach System, Out Of Water Safety
Recommended for pools up to 12m x 6m
Pool Floor, Walls & Waterline
Smart Navigation Adapted To Your Pool
Combined brushes - for all pool surfaces
Complete with Caddy & Control Panel
Long Lasting Cyclone Power
Water Removal Assistance & Easy To Access Filters
Intuitive Controls WiFi With iAQUALINK app
Embedded Sensors, Gyroscope & Accelerometer
18m "Tangle Free" Swivel Cable
4 Wheel Drive System
60 micron Filter With 5 Litre Capacity
2 year warranty on all parts