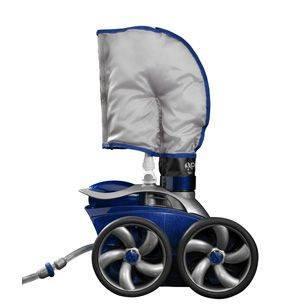 Polaris 3900 Sport Automatic Swimming Pool Cleaner
by World Of Pools.com
The Polaris 3900 Sport delivers unmatched vacuum power, incomparable convenience, and legendary performance.
DELIVERY: We aim to send all products out on a next working day service but all standard deliveries will be within 5 working days.
RETURNS: All products can be returned in original packaging, suitable for resale, within 14 days from date of delivery.
PRODUCT INFO:
Stylish, high quality automatic swimming pool cleaner, Polaris 3900 Sport (Polaris 3900s) delivers the most technologically advanced pool cleaner on the market.
Built using Polaris expertise, the Polaris 3900S Automatic Swimming Pool Cleaner is the most advanced and successful cleaner on the on sale to date. The new sleek styling and high performance means that the Polaris 3900S vacuums, sweeps and scrubs the walls of any size or shape swimming pool. The sweep application insures that even the most hard to reach areas are cleaned as well. 
Polaris have created this cleaner to work off a separate booster pump enabling you to still have your pool circulation running while your cleaner being in your pool. Having the cleaner working off its own pump improves the circulation as it is an additional option to circulate more of your pool water quicker and more efficiently. It improves your overall circulation by 56% which is a massive advantage over many other cleaners.