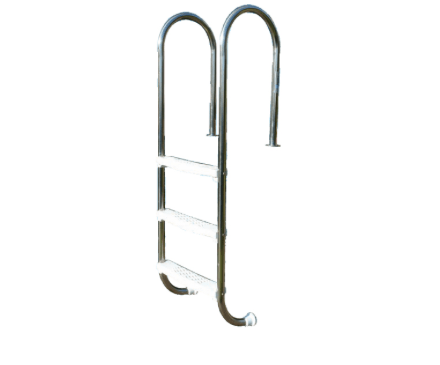 Plastica Wooden Pool Stainless Steel Ladder
by Plastica
Stainless Steel Wooden Pool Ladder
Manufactured by Plastica
3 tread
Cover plate available
Stainless steel
Attaches to wooden top rail
For any depth of pool
DELIVERY: We aim to send all products out on a next working day service but all standard deliveries will be within 5 working days
RETURNS: Wooden Pool Ladders can be returned to us, in compliance with the Consumer Contracts Regulations, unused and in their original packaging, suitable for resale, within 14 days from date of delivery. Returns should always be sent via "Signed For" carrier or postal service.
.

When a return is received back into our warehouse our returns department confirm that everything is present and that the item is in its original condition, to make sure it is eligible for a refund. We will process the refund normally on the same day we take them in, but please allow up to a maximum of 14 working days for the money to reach your bank or credit card. It is unlikely to take this long but due to reasons such as bank delays or errors, this may occasionally occur.
PRODUCT INFO:
The wooden pool ladder is a great looking inground pool style ladder that attaches to the top rail of your wooden swimming pool, each hand rail has a flange that takes 3 bolts to secure it safely to the wooden top rail. This ladder is suitable for any depth pool.
The Stainless Steel Wooden Pool Ladder can be a real focal point to a pool and the stainless steel makes this look great.The two hand rails has a flange that takes 3 bolts to secure it safely to the wooden top rail, and uses at actual sturure of the pool to support yout weight when entering the pool. This is done by having the feet of the ladder pointing towards the wall, so not only does this have more strength but it can now be used ur any depth size wooden pool