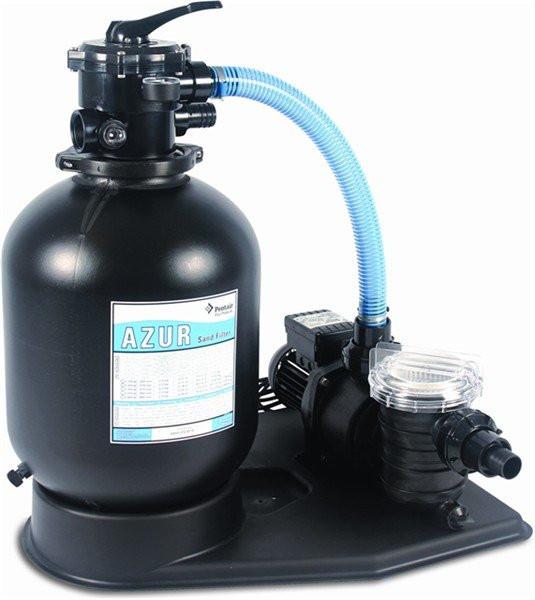 Pentair Azur Swimmey Swimming Pool Filter & Pump Combo
by Pentair
Pentair Azure top mounted Swimming Pool Pump & Sand Filter
6 way multiport valve
Maximum operating pressure 2.5 bar
Top quality single phase swimmey FreeFlo pump
DELIVERY: We aim to send all products out on a next working day service but all standard deliveries will be within 5 working days
RETURNS: This product can be returned in original packaging, suitable for resale, within 14 days from date of delivery. Returns should be sent via a "Signed For" carrier or post.

.

When we receive the item, our returns department confirm that everything is present and in its in original condition to ensure its eligibility for refund. We process refunds as quickly as possible. We process most refunds on the same day which they were received, but please allow up to a maximum of 14 days for the money to reach your account. It rarely takes this long, but can happen sometimes for reasons such as bank delays or errors.
PRODUCT INFO:
Pentair Azur Freeflo Pump Filter Combo is a quality package offering a pump and filter system that will provide circulation and clarity to your pool water. The Filter is a one piece blow-moulded non-corrosive tank providing strength and durability. The pump is a quality branded pump that is both efficient and quiet
Pentair have created a one piece unique blow-moulded Swimming Pool filter to partner the already reliable and great performing Pentair Swimming Pump to create a Pentair Swimming Pool Pump/Filter combination. Pentair have been in the industry over 40 years and continue to move with technology and create the best products for you the customer.
The Pentair Azur Filter comes in 3 different sizes 15'',19'' and 22'' which are then partnered by 0.5hp, 0.75hp and 1.00hp. Having the right optimum filter and pump size is key to maintaining the ideal flow rate and pressure for your Swimming Pool filtration system.
The Azur filter comes with a 6 point multiport valve which lets you use Filtration, Re-circulate, Waste, Backwash, Rinse and Closed options when needed. You will have your filter mainly on Filtration when running your Swimming Pool filtration.
If filter media is required we have provided a option to buy the right quantity for each filter combination listed
The pentair filter is a top mounted system that can use both sand or glass
15" 50kg sand / 45kg glass
19" 75kg sand / 65kg glass
22" 100kg sand / 85kg glass