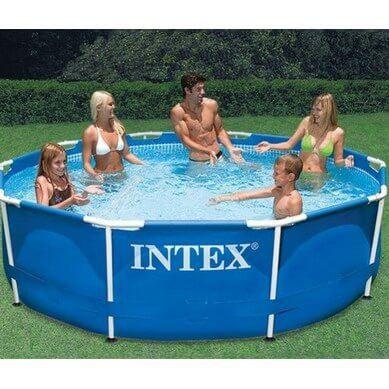 Intex Metal Frame Pool
by Intex
Intex Pools are the best made Summer pool
Quick to put up
Great for Summer Holiday in the back garden
Pump & filter included
DELIVERY: We aim to send all products out on a next working day service but all standard deliveries will be within 5 working days
RETURNS: This product can be returned in original packaging, suitable for resale, within 14 days from date of delivery.
PRODUCT INFO:
Intex Metal Frame Pools - for next day delivery. Intex pools are the cost-effective "easy set-up" alternative to more expensive and harder to set up steel walled pools.
Intex Metal Frame Pools are great value with there versatility and durability and with proper care an Intex Metal Frame Pool will provide years of family enjoyment. Heating a swimming pool can be a very expensive business so add our Athena Solar Domes to the Intex Pool Packages.
Using Solar Heating to add warmth to your pool will save hundreds of pounds a year against traditional heating methods and provide hours more enjoyment for you and your family.
Intex Metal frame swimming pools are a great choice for a family swimming pool, perfect for the summer holidays to have a swimming pool for the kids to mess around in and if you and your family spend a lot of time in the garden this summer whilst the Olympics are on then the Intex Metal Frame Pool is the ideal addition to your list of "essentials" that will amuse the kids and adults this Summer.
Intex Metal Frame Pool packages cost less than a day out for the family, so a whole Summers fun can be had extremely cheaply. Purchase the chemical kit as well and you can leave the water in all Summer long.
An aadded bonus to owning an Intex Metal Frame Pool is that if the children are having fun playing in the pool they won't be pestering you for stuff in the shops. Perfect when everybody is looking after the pennies.

As the original manufacturer of these styles of pools Intex has always been one step ahead of the competition in quality and innovation. Sometimes the Intex pools are slightly dearer than other brands but the extra expense pays for itself as the pumps and liners have been known to last for over 7 years. 
Intex Metal Frame Pools are easy to set up - all you will need is a screwdriver for the filter pump (and ladder assemblies if part of the package) 
Intex Metal Frame Pools come with the pump and filter but some sizes come as a packaged set that include lots of accessories! 
Intex Metal Frame Pool liners are constructed using SUPER-TOUGH™ heavy gauge material and the Intex metal Frame Pools' SUPER-TOUGH™ sidewalls are triple strong. The sidewalls are made with 3 separate layers of material for extra strength and durability - two outer layers of heavy-gauge pvc laminated to an inner layer of polyester mesh for extra reinforcement. The quality and design of this material results in extra strength and extreme durability. This reinforced PVC plastic is much thicker than comparable above ground pools. 
SUPER-TOUGH™ PVC is an extremely strong and durable plastic material that is impervious to gasoline, oil and salt water. The strong molecular structure of this plastic makes it highly resistant to damage from abrasion, impact and sunlight. This special PVC plastic material also allows more pressure for greater rigidity while maintaining the PVC material's natural flexibility. 
Intex Metal Frame Pools include a RUST-RESISTANT GALVANIZED STEEL FRAMEWORK! The frame provides superior structural support that allows a large size pool with greater water depth 
Intex Metal Frame Pools have a separate laminated band that circles the outside of the pool's frame to provide additional wall support 
Intex Metal Frame Pools have reinforced polypropylene rope that wraps around the pool liner's bottom to keep the legs firmly in position 
Intex Metal Frame Pools include a convenient drain plug that connects to a garden hose so the water can be easily and conveniently drained away from the pool area

 


 
10 ft & 12 ft Intex Metal Frame Pool package comes with:
Filter Pump
Instructional Video
Repair Patch