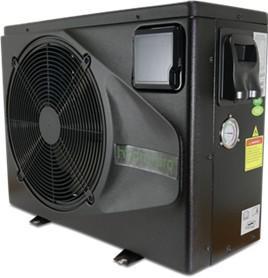 Hydropro P20 Swimming Pool Heat Pump - R32 Gas
by Bosta
Hydropro P 20 Heat Pump

New R32 Gas
Latest Model
Suitable for Pools up to 70,000 litres
Same Day Dispatch Fast Delivery
2 Year Parts & Labour Warranty
DELIVERY: We aim to send all products out on a next working day service but all standard deliveries will be within 5 working days
RETURNS: The Hydropro P20 Heat Pump can be returned in original packaging, suitable for resale, within 14 days from date of delivery. Returns should be sent via a "Signed For" carrier or post.

When we receive the item, our returns department confirm that everything is present and in its in original condition to ensure its eligibility for refund. We process refunds as quickly as possible. We process most refunds on the same day which they were received, but please allow up to a maximum of 14 days for the money to reach your account. It rarely takes this long, but can happen sometimes for reasons such as bank delays or errors.
PRODUCT INFO:
Hydropro P 20 Swimming Pool Heat Pumps are ideal for swimming pools up to 70m3 during the main summer months, slightly less if starting in April or the beginning of May.
WE HAVE HYDRO S INVERTER 20KW IN STOCK click here
Hydro Pro P20 Heat Pump
Ideal Size Pool - 30ft x 15ft x 4ft Deep
Maximum Size Pool - 30ft x 15ft x 5ft Deep
The Hydropro P20 will produce roughly 20kw of energy at 27 degrees air temp and nearly 14kw at 15 degrees while only drawing 2.87kw, making it an effective cost saving heating solution for your swimming pool. The Hydropro P20 contains the latest R32 gas making it more enviromentally freindly and better performing.These heat pumps need to have good ventilation and shuould be postition in an outdoor free to allow the ambient air to be drawn in and free to allow the cold air to escape
As an example the ideal size pool for this hydropro P20 swimming pool heat pump is a 30ft x 15ft that is 4ft deep swimming pool, although this is just a basic guide.
For help and advice call 01322 554 870
Hydropro P20 Heat Pump Data

 

Power Input

2.87 kW

Heating Capacity (A27/W27)

19.5 kW

Heating Capacity (A15/W26)

13.8 kW

Maximum Volume of Pool

With Good Insulation

70m3 / 70,000 litres

Running Current

12.8 Amps

Power Supply Type C or D breaker

35 AMPS

Coefficient (C.O.P.)  at A27/W27

6.3

Coefficient (C.O.P.)  at A15/W25

4.81

Compressor

Rotary

Refrigerant

R32

Fan Quantity

1

Fan Power Input

2000

Fan Rotate Speed

850 RPM

Fan Direction

Horizontal

Noise Level (10 metres)

57 dB (A)

Water Connection

50mm

Minimum Water Flow

6.8 m3/h

Dimensions (L/W/H)

115cm / 47cm / 87cm