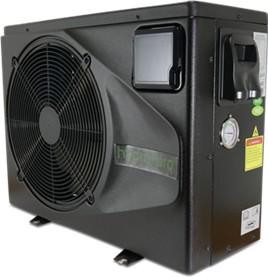 Hydropro P12 Swimming Pool Heat Pump
by Bosta
Hydropro P12 Swimming Pool Heat Pumps
Complete with 6m Plug and Play Cable Kit
In Stock For Same Day Despatch
Sale Prices - Cheapest Online Or We Match Price
Suitable For All Year Use If Sized Correctly - Call For Advice
2 Year Parts & Labour Warranty
DELIVERY: Hydropro P12 Swimming Pool Heat Pumps are sent out via a specialist haulier. Delivery takes between 1-3 days.
PRODUCT INFO:
Hydropro P12/32 heat pumps are suitable for swimming pools up to 50m3 during the main summer months, slightly less if starting in April or the beginning of May. As the Hydropro P12 Heat Pump is one of the newest ranges of Swimming Pool Heat Pumps available they are supplied with R32 Gas
Comes complete with Plug and Play Cable Kit that needs to be installed by a competent person so perfect for inground and above ground pools
As the Hydropro P14 Heat Pump will function even when the ambient air temperature is as low as 0° Celcius they can be used all year round, but with reduced C.O.P. and output. To function correctly the heat pump will need to be sized correctly. As a very rough guide, it is suggested to at least double the Ideal Size, but it is advisable if you call us on 01322 554 870 to ensure suitability.
Hydropro P12 Heat Pump - Summer Use 
Ideal Size Pool 24ft x 12ft x 4ft Deep
Maximum Pool Size 24 ft x 12ft x 5ft Deep
To see other sizes of hydropro heat pumps click here. Full Range Of Heat Pumps
For help and advice call 01322 554 870
Hydropro P12/32 Heat Pump Data
 

heating power input

1.95 kW

heating capacity (A27/W27)

11.5 kW

heating capacity (A15/W26)

6.5 kW

maximum volume of pool

with good insulation

50m3 /

50,000 litres

coefficient (C.O.P.)  at A27/W27

5.90

coefficient (C.O.P.)  at A15/W25

4.59

compressor

rotary

refrigerant

R32

fan quantity

1

fan power input

90

fan rotate speed

850 RPM

fan direction

Horizontal

noise level (10 metres)

43 dB (A)

water connection

50mm

nominal water flow

4.5 m/h3

dimensions (L/W/H)

100cm / 39cm / 60cm

Type C or D Breaker Size
15 amp