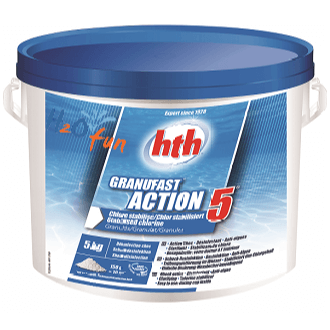 HTH Action 5 Chlorine Granules 5kg
by HTH
HTH Action 5 Chlorine Granules
Previously Branded Fi-Clor
Chlorine Granules with 5 Actions In One Treatment
Fast dissolving Minimal Effect On pH Level.
Quickly Raises Free Chlorine Level In Pools
Contains Algaecide To Help Prevent A Green Pool
Contains Clarifier For Clearer Pool Water
Next Working Day Delivery
DELIVERY: HTH Action 5 Chlorine Granules will normally take 1 to 2 working days but please all  3 to 5 days in some extreme cases
RETURNS: HTH Action 5 Chlorine Granules can be returned to us, in compliance with the consumer contracts regulations, unused and in their original packaging, suitable for resale within 14 days from the date of delivery. Returns should always be sent via "signed for" carrier or postal service.

.

When a return is received back into our warehouse our returns department confirm that everything is present and that the item is in its original condition, to make sure it is eligible for a refund. We will process the refund normally on the same day we take them in, but please allow up to a maximum of 14 working days for the money to reach your bank or credit card. It is unlikely to take this long but due to reasons such as bank delays or errors, this may occasionally occur.
PRODUCT INFO:
HTH Action 5 Chlorine Granules are a high quality, quick and effective pool disinfection for your swimming pool water. The HTH brand supersedes The Fi-Clor brand has long been know as the best on the market
HTH Action 5 is one simple treatment and is the easiest and most effective way of instantly raising the pool water Free Chlorine level, killing bacteria, combats algae, clarifies pool water, fast acting without effecting pH and reduces Chlorine loss to sunlight. Also, no pre-dissolving needed!
Dose rate: 18g Per 10m3 (10,000 litres / 2,200 UK Gallons) will raise the pool water 1ppm