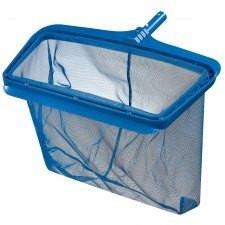 Swimming Pool Heavy Duty Deep Leaf Net
by World Of Pools.com
Heavy Duty Leaf Net
Fits All Complock Poles
Has A BladeTo Scoop Leaves Off Pool Floor
Massive Bag Holds Huge Amount Of Debris
DELIVERY: Swimming Pool Nets are sent out via a specialist carrier. Delivery will normally take between 1-3 days, but please allow 5 working days in some extreme cases.
RETURNS: Swimming Pool Nets can be returned to us, in compliance with the Consumer Contracts Regulations, unused and in their original packaging, suitable for resale, within 14 days from date of delivery. Returns should always be sent via "Signed For" carrier or postal service.

.

When a return is received back into our warehouse our returns department confirm that everything is present and that the item is in its original condition, to make sure it is eligible for a refund. We will process the refund normally on the same day we take them in, but please allow up to a maximum of 14 working days for the money to reach your bank or credit card. It is unlikely to take this long but due to reasons such as bank delays or errors, this may occasionally occur..
PRODUCT INFO:
The Heavy Duty Deep Leaf Net is suitable for collecting leaves and debris from the bottom, top and even sinking debris in a swimming pool. Using a heavy Duty Leaf Net will make clearing the water easier and the leaf net should last longer. By using a Leaf net you will reduce the amount of leaves clogging up the strainer basket and leaves can sometimes leave a stain on the swimming pool liner
Heavy Duty Deep Leaf Nets are perfect for gathering leaves and debris from the bottom of all types of Swimming Pools. No matter what your pool floor is whether it is a contant depth or hopper shape this Deep Leaf Net will be fantastic for gathering and removing all unwanted debris. Its designed with a lip to help flick debris and leafs into the net while just pushing the telescopic pole along the floor.