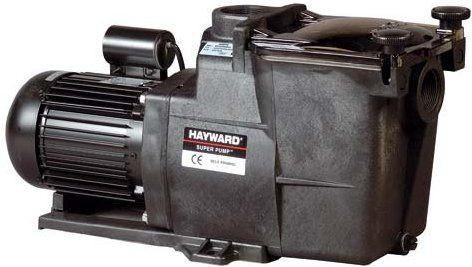 Hayward Super Pump For Inground Swimming Pools
by Hayward
Hayward Super Pump For Inground Pools with 2 year warranty
Self-priming with closed ventilated motor
Pump made from PermaGlass XL"¢
1800cc volume large easy access strainer basket
Resists chemical and saline corrosion in normal use
Cover of transparent Lexan® with fast opening and closing
Low sound level and Low electricity consumption
Corrosion proof Noryl® impeller with brass insert
Heavy duty, high performance motor with excellent flow rate
DELIVERY: Hayward Super Pumps are sent out via a specialist carrier. Delivery will normally take between 1-3 days, but please allow 5 working days in some extreme cases.
RETURNS: Hayward SuperPumps can be returned to us, in compliance with the Consumer Contracts Regulations, unused and in their original packaging, suitable for resale, within 14 days from date of delivery. Returns should always be sent via "Signed For" carrier or postal service.

.

When a return is received back into our warehouse our returns department confirm that everything is present and that the item is in its original condition, to make sure it is eligible for a refund. We will process the refund normally on the same day we take them in, but please allow up to a maximum of 14 working days for the money to reach your bank or credit card. It is unlikely to take this long but due to reasons such as bank delays or errors, this may occasionally occur.
PRODUCT INFO:
Hayward Super Pumps from 0.75hp to 2hp making it available for a huge range of Swimming Pool shapes and sizes. Quiet operating pump which means it will be great for using on in door Swimming Pools.
Hayward Super Pumps are a self-priming Swimming Pool Pump that is made of a PermaGlass XL which is one of the strongest materials for pumps to date. Hayward's Super Pump series of technologically advanced large-capacity pumps delivers cost-effective, sturdy construction-setting an industry standard for value and excellence. Built for spas and in-ground pools of all sizes and types, each unit contains a super-sized debris basket, large see-through strainer, and exclusive easy-to-service design for added convenience. Comes with a great 2 year warranty
•The heavy-duty high-performance motor includes airflow ventilation for cooler, quieter operation.
•See-through strainer cover allows you to see when the basket requires cleaning.
•Exclusive swing-away handle makes it easy to remove the strainer cover, no tools, and no loose parts.
•110-cubic-inch basket