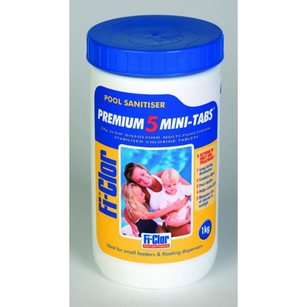 Fi-Clor Premium 5 Mini Tabs - Small Chlorine Tablets For Swimming Pools
by Fi-Clor
Fi-Clor Premium 5 Mini Tablets 20g
Fi Clor Multifunctional Chlorine Tablets
Longer Lasting Disinfection

Pool Clarifier & Combats Algae
Minimal Effect On pH Level Raises Free Chlorine Level In Pools
Next Working Day Delivery
DELIVERY: Fi-Clor Premium 5 Mini tablets are sent out on a next working day service but all standard deliveries will be within 5 working days
RETURNS: Fi-Clor premium 5 tabs can be returned if unopened and in original packaging, suitable for resale, within 14 days from date of delivery.
PRODUCT INFO:
Fi-Clor Premium 5 offers 5 actions in one treatment. 1kg of 20g Chlorine tablets that are specifically designed to offer longer lasting disinfection, that combats algae and acts as a clarifier.
Premium 5 tablets are the most effective way of raising the pool water Free Chlorine level, longer lasting action to kill bacteria, fast acting chlorine without effecting pH and reduces Chlorine loss to sunlight and acts as a clarifier
To calculate your swimming pool volume use this link to our Swimming Pool Chemical Handbook to use the handy swimming pool volume calculator
Dose rate: 13 x 20g Tablets Per 50m3 (50,000 litres / 11,000 UK Gallons) per week.