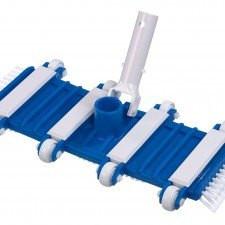 Vacuum Head For Concrete & Tiled Swimming Pools
by World Of Pools.com
Vacuum Head Designed For Concrete & Tiled Pools
Flexible 12 inch Body
Allows You To Cover Huge Areas Quickly
Clear You Pool Floor Perfectly
Flexible Body For Curved Floors
DELIVERY: We aim to send all products out on a next working day service but all standard deliveries will be within 5 working days.
RETURNS: All products can be returned in original packaging, suitable for resale, within 14 days from date of delivery.
PRODUCT INFO:
The 12" vacuum head is flexible in design allows it to mold easily to the shape of your pool meaning the you can clean right into the tightest corners, while the wheels allow it to glide easily over the pool floor with minimal effort. Ideal for tiled and concrete swimming pools.
Some tiled or concrete swimming pools have curved wall and sloping floors, the deluxe vac head is ideal for these types of swimming pools. The flexible vacuum head allows it to flex and take shape of any bend and then is further complemented with free flowing wheels which enables it to be pushed effortlessly across the swimming pool. The vacuum head has no issues in climbing slopes or reaching in between the angles which run between the floor and walls on a Hopper shape swimming pool