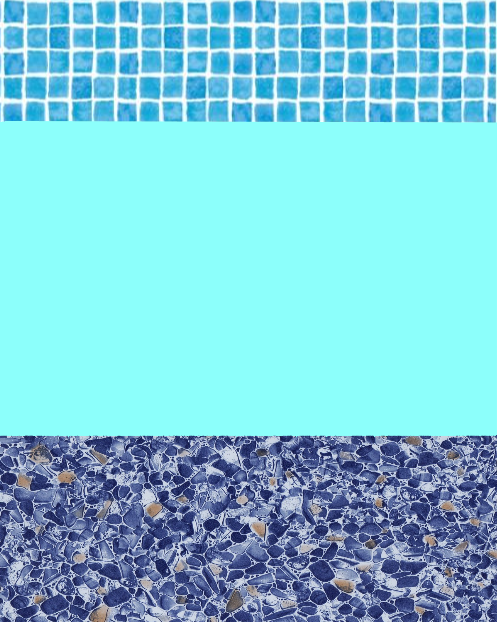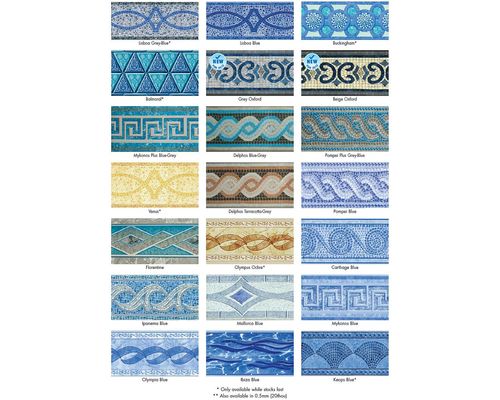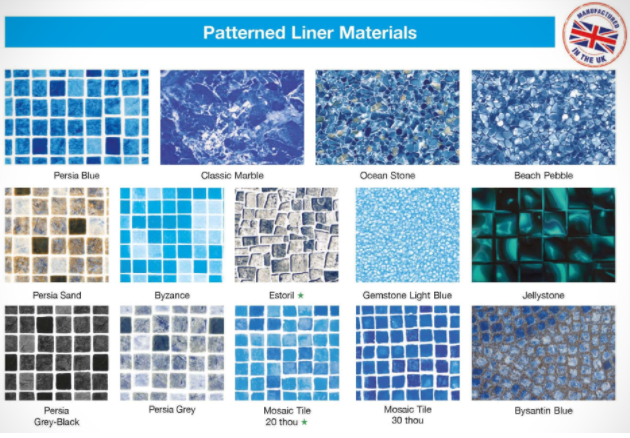 Combination 30 Thou Swimming Pool Liner
by Plastica
Combination 20 Thou (0.5mm) Swimming Pool Liner

Combination Liner Has A Tileband, Plain Walls & Patterned Floor

UK Manufactured Highest Quality Swimming Pool Liners

7 Days A Week Installation Helpline from World of Pools.com

Quick & Easy Installation 

Individual Job Number On Liner For Easy Re-Ordering
Liner Tileband Choices In Images To The Left
DELIVERY: We aim to send all products out on a next working day service but all standard deliveries will be within 5 working days
RETURNS: This product is produced to order and as such is classed as a special order and cannot be returned unless there is a manufacturers defect
PRODUCT INFO:
Combination 20 Thou Swimming Pool Liner is an ideal replacement for any tired or damaged swimming pool liner. Made in the UK by the country's largest pool liner manufacturer the Combination 20 Thou Pool Liners are of the highest quality and each one has its own individual code for ease of re-ordering.
We have provide a list of prices as a guide. The liners are priced for Rectangular hopper or wedge pools with a shallow end wall height of 3ft 4". If you pool is of a different wall height please contact us for a very competitive quote.

Liner Installation Instructions
Install day must be a warm sunny day to replace your liner with very little wind, the hotter it is the easier the installation will be.

Leave your new liner in a conservatory or in a very warm spot to get the boxed liner as warm as possible before unpacking. This will ensure flexibility in the liner when it comes to install day

Prepare your pool Base very carefully, sweeping the pool floor to remove all loose debris and sharp object which may push through. 
Install your pool floor felt and foam walls if you have chosen that optional extra, the floor felt will protect your liner from abrasive damage from the floor of your pool, and give a soft feel underfoot. It will also soften any sudden impact with the pool floor.
Start at the Deep End and secure the liner bead into the linerlock. Work your way round the pool, if two people go in opposite directions. 
Once the liner is fully fitted into the liner lock check how the liner is hanging and adjust where needed. at this stage if possible "Set" your liner with a pool liner vacuum. This will pull the liner against the pool walls and floor, ensuring there are no creases when filling. At this stage fit main drain.
Once any wrinkles are removed start filling the pool. As the pool water rises fit the returns and skimmers as the the water reaches just below each fitting. This will allow the liner to have fully stretched in and reduce any risks of leaks.

Please note that all warranty claims on liners are only valid if any fault is found on a manufactured seam. All the liners are reverse inflated when manufactured to ensure water tightness, so no warranty can be accepted for holed liners.

DO NOT USE ANY KNIVES WHEN OPENING THE LINER PACKAGING.
Prices below are are for Rectangular hopper or wedge pools with a shallow end wall height of 3ft 4". If your pool has a deeper shallow end please contact us for a very competitive quotation.