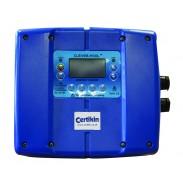 Certikin Pool Pump Inverter
by Certikin
Certikin Clever Pool Pump Inverter
Made by Cerkitin
Domestic Variable Speed Controller for pumps 1hp to 2hp
Reduces pump speed from 2850rpm to a lower level
Energy savings uof upto 70%
DELIVERY: We aim to send all products out on a next working day service but all standard deliveries will be within 5 working days
RETURNS: This product can be returned in original packaging, suitable for resale, within 14 days from date of delivery.
PRODUCT INFO:
Certikin Pool Pump Inverter will help you to control your pool pump's speed, reducing rpm when required. This inverter is easy to install and simply connects to your wall mounted pool pump. Its manual control allows you to vary the speed of your pump when you do not need full power and revert to full speed when you need to i.e. when you are backwashing or require higher flow. The inverter should be used with a good quality pump such as a Certikin brand, Sta Rite, Waterco etc.
 A 30%  reduction from 2850rpm to 1995 rpm can result in energy saving of 70%. The money you save through using less energy far out-ways the initial cost of this inverter, meaning that this product is an essential item for pool owners who wish to save money.
Certikin Inverter is designed to be used on pumps 1hp to 2hp
Benefits of using a pump inverter:  
- Energy savings (70%-80%)
- Reduces noise