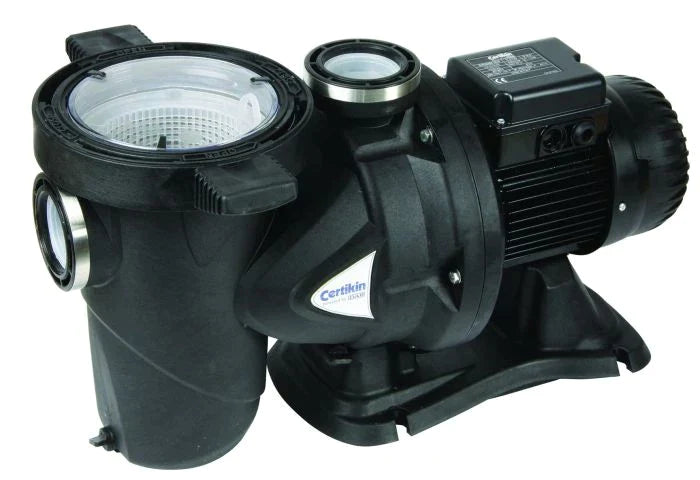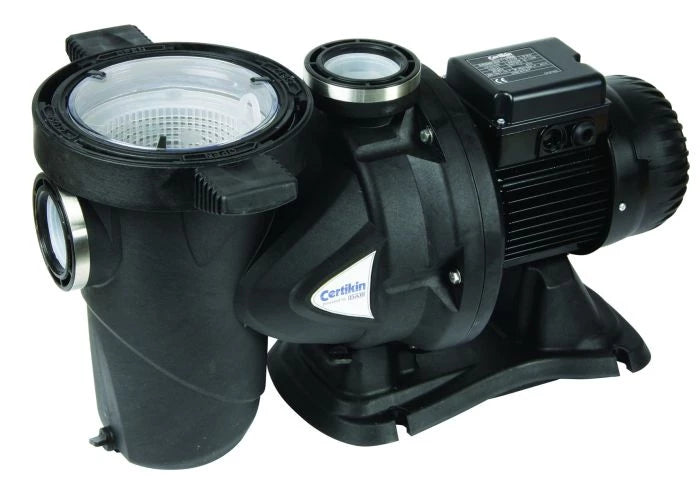 Certikin Euroswim Pump 1hp Powered by DAB
by Certikin
High efficiency 1hp pump for swimming pools

High capacity pre-filter

2" suction and discharge ports reinforced with S/S rings

Liquid temperature: up to 60°C, Ambient temperature: up to 50°C

Reduced noise levels of 53 to 64 (LpA)

Strainer cover in clear polycarbonate for constant visibility

Suitable for salt chlorinated pools
DELIVERY: Euroswim 1hp Pumps are sent out via a specialist carrier. Delivery will normally take between 1-3 days, but please allow 5 working days in some extreme cases

RETURNS:
Euroswim Pumps powered by DAB can be returned to us, in compliance with the Consumer Contracts Regulations, unused and in their original packaging, suitable for resale, within 14 days from date of delivery. Returns should always be sent via "Signed For" carrier or postal service.

When a return is received back into our warehouse our returns department confirm that everything is present and that the item is in its original condition, to make sure it is eligible for a refund. We will process the refund normally on the same day we take them in, but please allow up to a maximum of 14 working days for the money to reach your bank or credit card. It is unlikely to take this long but due to reasons such as bank delays or errors, this may occasionally occur.
PRODUCT INFO:
The sought-after Euroswim 1hp is a low noise, self-priming centrifugal pump with a large pre-filter basket enabling the user to empty less often and minimize maintenance.
The Euroswim pump is designed to have connections in similar locations to a number of other industry standard pumps such as the Sta-Rite 5P2R.  
The Euroswim pump powered by DAB is a high performance self-priming centrifugal electric pump with built-in high capacity prefilter. The motor is completely isolated from the water. Extremely quiet and highly reliable, developed for water circulation and filtration in domestic and residential swimming pools. Also suitable for specific applications requiring handling of aggressive liquids in the fishing, agricultural, and industrial sectors.