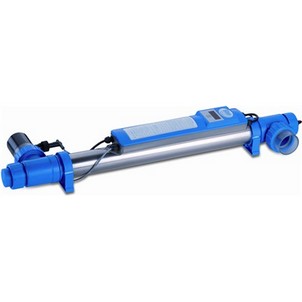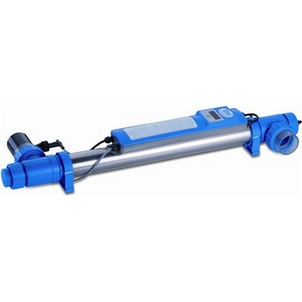 Blue Lagoon UV System With Timer
by World Of Pools.com
Ultra Violet Light Kills Bacteri and provides fresh, clean and clear water

Efficiently and safely disinfects water

Built in electronic ballast for even power supply

UV-C demolish bonded chlorine

Protects your pool against pathogenic organisms

Keeps the formation of mould, bacteria and algae under control

Can reduce the use of chlorine and other chemicals up to 80%

Up to 35% more UV-C produced by reflection

Has an electronic ballast for an even power supply

2-year warranty on production defects
DELIVERY: Blue Lagoon UV System are sent out via a specialist carrier. Delivery will normally take between 1-3 days, but please allow 5 working days in some extreme cases.
RETURNS: Blue Lagoon UV Systems can be returned to us, in compliance with the Consumer Contracts Regulations, unused and in their original packaging, suitable for resale, within 14 days from date of delivery. Returns should always be sent via "Signed For" carrier or postal service.


When a return is received back into our warehouse our returns department confirm that everything is present and that the item is in its original condition, to make sure it is eligible for a refund. We will process the refund normally on the same day we take them in, but please allow up to a maximum of 14 working days for the money to reach your bank or credit card. It is unlikely to take this long but due to reasons such as bank delays or errors, this may occasionally occur.
PRODUCT INFO:
Blue Lagoon Ultra Violet system with a built in timer will provide fresh clean sparkling water in an enviromentaly and frendliy manner. good for your skin and eyes while saving you money and giving you far better quality pool water.
The Blue Lagoon UV-C Tech Timer has a wavelength of 253.7 nm is generated by the special lamp, which thus produces a bactericidal action. The Blue Lagoon UV-C Tech provides clean, fresh and clear water in an efficient and environmentally friendly manner.
The Blue lageen UV-c Timer has a built in high frequency ballast. This ballast absorbes current fluctuations and so protects the lamp. The devise also has an ingergrated hour counter that accuratley monitors rthe number of burning hours so you can see whenthe lamp needs replacing.
The Blue Lageen UV system neutralises bacteria, viruses and other primitive organisms and prevents them from reproducing. In addition, the stainless-steel interior reflects the UV-C radiation, thereby increasing the efficiency by up to 35%. With the Blue Lagoon UV-C Tech your water will be efficiently and safely disinfected, providing you with excellent water quality. The Blue Lagoon UV-C Tech also has a special T5 UV-C lamp with a unique lamp base
| | | | |
| --- | --- | --- | --- |
| Technical specifications | | 40.000 L | 75.000 L |
|   |   |   |   |
| Lamp UV-C Timer | | 40 Watt | 75 Watt |
| UV-C (W) | | 15 Watt | 25 Watt |
| | | 85% | 80% |
| Pool capacity (L.) | | 40.000 L | 75.000 L |
| Max. flow | | 20.000 l/h | 25.000 l/h |
| Max. pressure | | 3 bar | 3 bar |
| Connection | | Ø63mm | Ø63mm |
| Length device | | 100cm | 100cm |