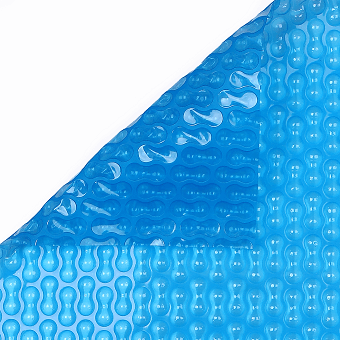 Blue 400 micron Geobubble Solar Cover
by World Of Pools.com
400 micron geobubble Solar Cover Made In The UK

Adds heat to your pool for free

Reduce your heating bill and Save on chemicals

3 Year Pro-Rata Warranty (UK & Eire)
DELIVERY: Next day delivery on standard size covers.
RETURNS: This product can be returned in original packaging, suitable for resale, within 14 days from date of delivery. Returns should be sent via a "Signed For" carrier or post. A Returns Number must be obtained before sending goods back.

When we receive the item, our returns department confirm that everything is present and in its in original condition to ensure its eligibility for refund. We process refunds as quickly as possible. We process most refunds on the same day which they were received, but please allow up to a maximum of 14 days for the money to reach your account. It rarely takes this long, but can happen sometimes for reasons such as bank delays or errors..
PRODUCT INFO:
Geobubble 400 Micron Solar Cover at a low price. Our World Of Pools swimming pool covers can help raise water temperature by up to 17%, turning your swimming pool into a huge solar collector. The "New & Improved" 400 Micron pool Covers will transfer maximum energy and help generate increased temperature through the day and will also prevent heat loss by up to 85%, as the outside temperature falls overnight.
400 micron solar cover is essential for a Swimming Pool whether Inground or Above. You need a pool cover to help reduce heat, chemical and water loss. With higher energy costs it is important to retain as much heat as possible and add heat. Our 400 micron solar cover is UK made and is an ideal cover for all swimming pools but at a price that is unbeatable.
We can make the cover to size to fit your pool including adding a leading edge, roman end and hemming, made to order covers take approx 10 days to make, please call or email for details

A swimming pool solar cover can:
Help Raise Water Temperature By Up To 17%
Reduce Heating Costs By Keeping Generated Heat In The Swimming Pool 
Solar covers will help to keep debris out of your pool making it cleaner
Enable you to make more use of your pool as warmer water will be used more
Reduce the amount of water you Lose through Evaporation, especially important is water restriction are in place
Save On Chemicals Through Reduced Evaporation Levels 
Solar Covers are essential when using an "On Demand" form of heating such as Solar, Heat Pump, Gas, Oil or Electric. Without a Swimming Pool Solar Cover you will be wasting vast amounts of money as the heat produced by your Swimming Pool Heater is lost into the atmosphere.
We have provided prices for the most common sizes of solar covers, but we can manufacture Solar Covers to any size you require. If your pool size is not listed below, please contact us for a price