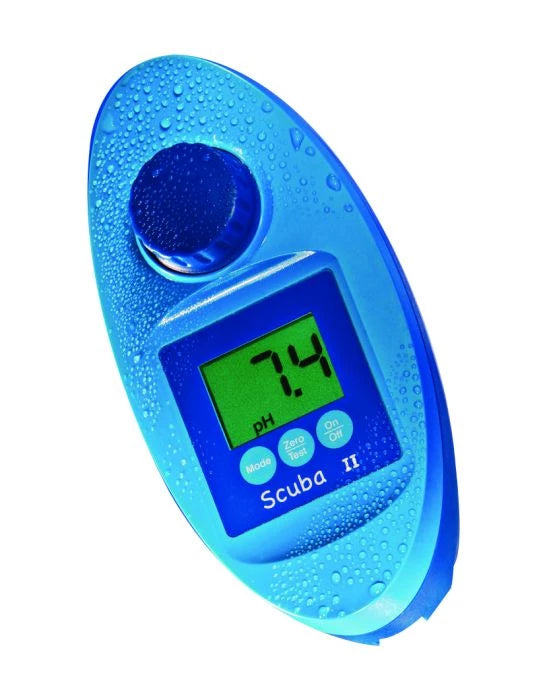 Scuba 2 Digital Tester
by World Of Pools.com
No More Guessing Test Readings
Chlorine, Bromine, pH & Total Alkalinity Tested
Uses standard Lovibond Photometer Reagents
Accurate Reading Every Time
Waterproof Housing
In Stock For Immediate Delivery
DELIVERY: Delivery for Scube 11 will normally take between 1-3 days
RETURNS: Scuba 11 can be returned to us, in compliance with the Consumer Contracts Regulations, unused and in their original packaging, suitable for resale, within 14 days from date of delivery. Returns should always be sent via "Signed For" carrier or postal service.

.

When a return is received back into our warehouse our returns department confirm that everything is present and that the item is in its original condition, to make sure it is eligible for a refund. We will process the refund normally on the same day we take them in, but please allow up to a maximum of 14 working days for the money to reach your bank or credit card. It is unlikely to take this long but due to reasons such as bank delays or errors, this may occasionally occur.
PRODUCT INFO:
The Lovibond Scuba 2 Digital tester uses standard Lovibond photometer reagents.
Test Chlorine 0-6ppm, pH 6.5-8.4, TA 0-500ppm, Cyanuric 0-160ppm.
Swimming pool owners can now benefit from Lovibond technology used in public pools but at an affordable price. The Scuba II is a small, compact, easy-to-use digital water tester for the 5 most important tests: Free Chlorine, Total Chlorine, pH, Alkalinity and Cyanuric Acid.  This buoyant, watertight instrument is ideal for quick home testing (results displayed in a large viewing area within 1 minute). Supplied with sufficient tablets for a normal season's testing, it is the ideal solution for domestic users looking for accurate, digital results.