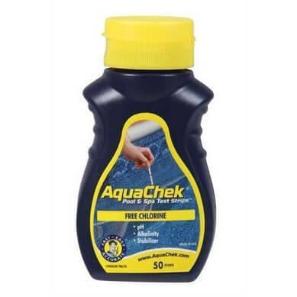 Aquachek Chlorine Test Strips
by World Of Pools.com
Aquachek Chlorine Test Strips For Swimming Pools & Hot Tubs
Tests for Free Chlorine, Cyanuric Acid, pH and Total Alkalinity
Aquachek The Best Dip Test Strip For Hot Tubs
In Stock For Immediate Delivery
Results In Only 15 Seconds
50 Strips Per Bottle
Simple To Use With Accurate Results
Our Best & Most Accurate Dip Test Strip
PRODUCT INFO:
Aquachek Chlorine Test Strips are the best and most accurate dip test strip for swimming pools & Hot Tubs
Aquachek dip test for not only Free Chlorine but also Cyanuric Acid, pH and Total Alkalinity.
The Best Dip Test Strip For Intex Pools Is Aquachek Chlorine Test Stips

Immerse the AquaChek test strip into the hot tub or pool water then remove it immediately. After 15 seconds the reading showing are the levels of your hot tub or pool.
Aquacheck Are The Best Dip Test Strip For Hot Tubs 

Ensure that you test your spa before each use and your pool at least once a week. When checking your pool test twice, from two points furthest apart. Keeping a log will assist you in understanding how your water reacts to bather loads and weather.
Each bottle has full instructions.

Testing Capabilities
pH - range of 6.2 - 8.4. Hot tub & pool water should be between 7.2 - 7.6
Free Chlorine - range of 0 - 10. Hot Tub water needs to be kept between 3ppm - 5ppm & pool water between 1ppm - 3ppm
Total Alkalinity - range of 0 - 240 ppm. Hot Tub & Pool water should be between 80 - 120. 
Cyanuric Acid - range of 0 - 300 ppm. Cyanuric Acid, also called stabiliser or conditioner, helps reduce chlorine loss, but too much will cause "chlorine lock" and stop chlorine sanitising correctly. Pool & Hot Tub water should be kept between 30 - 50. 
 

F.A.Q: Aquacheck Pool & Hot Tub Dip Test Strips
Q: How do I use Aquachek chlorine test strips
A:To use Aquachek chlorine test strips, dip the strip into your pool or spa water for 15 seconds. DO NOT Shake off any excess water and compare the color of the strip to the color chart on the bottle to determine the chlorine and other levels.
Q: How accurate are Aquachek chlorine test strips?
A:Aquachek chlorine test strips are highly accurate and are designed to provide a quick and easy way to test chlorine levels in swimming pool and hot tub spa water. They are a reliable and cost-effective solution for monitoring chlorine levels and are especially good for Intex Pools andHot Tubs?
Q: How often should I test my pool or spa water with Aquachek chlorine test strips?
A: It is recommended to test your pool or hot tub water at least once or twice a week, or more frequently when the swimming pool or hot tub is being used a lot, such as in the main Summer months, or if you notice a change in the water's appearance or smell.
Q: Can Aquachek chlorine test strips be used in saltwater pools?
A: Yes, Aquachek chlorine test strips can be used in both saltwater and chlorine pools.
Q: How do I store Aquachek chlorine test strips?
A: It is important to store Aquachek chlorine test strips in a cool, dry place to ensure accuracy and longevity. Keep the bottle tightly sealed to prevent the strips from drying out or becoming contaminated.
DIP TEST INTRUCTRUCTIONS:
Aquachek Chlorine Test Strip Application Instructions
1. Dip strip into pool or hot tub water and remove immediately.
2. Hold strip level for 15 seconds, but do not shake the excess water from strip.
3. Compare Free Chlorine, pH, Total Alkalinity and Cyanuric Acid results to the colour chart on the back of the bottle.
4. Adjust water levels accordingly using appropriate chemicals.
5. Store at room temperature and remember to ensure the cap is put back on tight.
DELIVERY: We aim to send& Aquacheck dip test strips within 1-2 days. Stock items are normally sent same day, and delivery made between 2-3 days
RETURNS:
Aquacheck Dip Test Strips can be returned in original packaging, suitable for resale, within 14 days from date of delivery.

When we receive the Wooden Pool, our returns department confirm that everything is present and in its in original condition to ensure its eligibility for refund. We process refunds as quickly as possible. We process most refunds on the same day which they were received, but please allow up to a maximum of 14 days for the money to reach your account. It rarely takes this long, but can happen sometimes for reasons such as bank delays or errors.