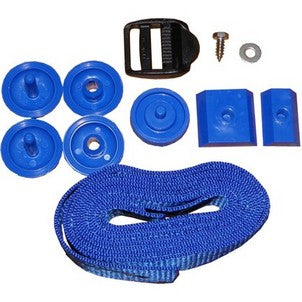 5 x Universal Strap Set from Plastica
by Bosta
Solar Cover 5 x Universal Strap Sets
Pack of 5 straps to connect Solar Cover to a Reel System
Plastica Strap Set is an easy DIY pack
Provides everything you need to attach your cover to your reel.
DELIVERY: Universal Strap Sets are sent out via a specialist carrier. Delivery will normally take between 1-3 days, but please allow 5 working days in some extreme cases.
RETURNS: Universal Strap Sets can be returned to us, in compliance with the Consumer Contracts Regulations, unused and in their original packaging, suitable for resale, within 14 days from date of delivery. Returns should always be sent via "Signed For" carrier or postal service.

When a return is received back into our warehouse our returns department confirm that everything is present and that the item is in its original condition, to make sure it is eligible for a refund. We will process the refund normally on the same day we take them in, but please allow up to a maximum of 14 working days for the money to reach your bank or credit card. It is unlikely to take this long but due to reasons such as bank delays or errors, this may occasionally occur.
PRODUCT INFO:
Universal Strap Set for Swimming Pool Reel Systems (5 pack)
The Unviversal Strap Set from Plastica comes in a pack of five straps which can be used to connect your Swimming Pool Solar Cover to your Reel System. This Strap Set is a easy DIY pack that will provide everything you need to attach your cover to your reel.
Why Buy The 5 x Plastica Universal Strap Set
 If you have a Plastica Reel system it is strongly advised to use this strap set over other systems, as there are pre drilled holes on the Plastica strap set

The Unviversal Strap Set comes in a pack of 5 so ideal for a small to medium sized cover. The straps are used to connect your Reel system to your Swimming Pool Solar Cover. In this Strap Set kit there will be everything you require to be able to attach your Solar Cover to your Reel system. You will follow a easy process that will keep your Solar Cover tight to your reel when being rolled up.
Keeping the right distance on your straps is a major key in being able to being able to roll your Solar Cover up evenally. So when placing your poppers on to your Solar Cover it is a good idea on using the same length on from the edge of your cover to help you out from the start. Measuring and marking where your straps would attach before actually fitting any is a perfect way of knowing its evenally marked out before you start fitting them.