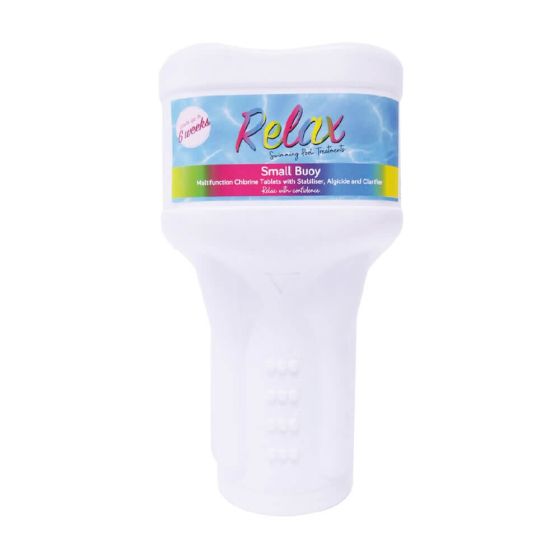 1Kg Floating Winter Pool Chemicals For Above Ground Pools
by worldofpools.com
Chlorine, algaecide and clarifier tablets in a pre-filled dispenser
Contains multifunctional Trichlor tablets
Sanatiser, Algicide and Flocculant
Easy to use, no chemical handing
Tablets dissolve over a 12 week period
Tops up your Winter Chemicals 
DELIVERY: We aim to send all products out on a next working day service but all standard deliveries will be within 5 working days
RETURNS: This product can be returned in original packaging, suitable for resale, within 14 days from date of delivery.
PRODUCT INFO:
Relax 1Kg Floating Multi Function Pool Small Buoy Chemical Dispenser helps keep your above ground swimming pool water clear during the winter. Topping up your Winter Chemical level automatically. It is essential that you test your water with test strips to ensure that the pool water has the correct chlorine levels and that the pH is balanced. The Relax 1Kg Floating Multi Fuctioning Pool Small Buoys are suitable for most small to medium sized above ground pools.
You can control the amount of chlorine going into the water and make the floating buoy last all winter by cutting off only one of the nodes on the side. If you have any questions on how to safely use the Relax 1Kg Winter Pool Floating Multi Fuctioning Small Buoys please call or email us.