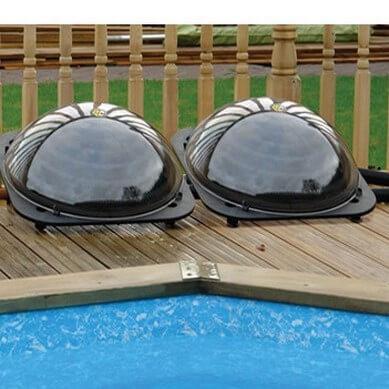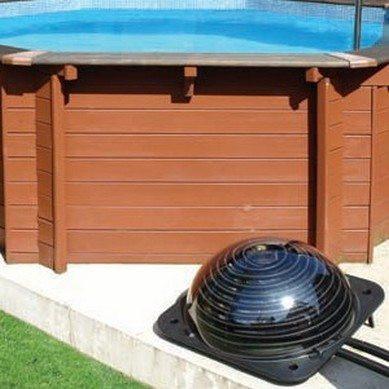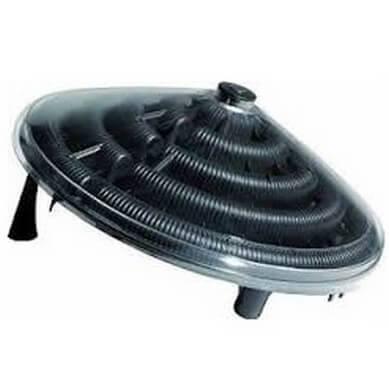 Solar Pod & Solar Pod Plus Swimming Pool Solar Heater
by Plastica
Solar Pod & Solar Pod Plus Swimming Pool Heaters
Heats Your Pool For Free
Call Us On 01322 554 870 For Advice On How Many Needed
Less Space Than Solar Matting
Great On Above Ground Pools
DELIVERY: We aim to send all products out on a next working day service but all standard deliveries will be within 5 working days
RETURNS: This product can be returned in original packaging, suitable for resale, within 14 days from date of delivery. Returns should be sent via a "Signed For" carrier or post. A Returns Number must be obtained before sending goods back.

.

When we receive the item, our returns department confirm that everything is present and in its in original condition to ensure its eligibility for refund. We process refunds as quickly as possible. We process most refunds on the same day which they were received, but please allow up to a maximum of 14 days for the money to reach your account. It rarely takes this long, but can happen sometimes for reasons such as bank delays or errors..
PRODUCT INFO:
Solar Pods & Solar Pod Plus are an ideal solar heating solution for your above or in-ground swimming pool. Solar heating using a Solar Pod is one of the most cost effective methods of heating your pool. Once you have purchased this Solar Heating System every Kilowatt of heat produced for your water is totally free. Whether you use the Solar Pods as a top up for your existing pool heater or as the only form of Heating it makes economical & environmental sense to use for your Swimming Pool. The Solar Pod Plus are an extra large, stronger and more robust system for increased performance. Please see the specification chart to calculate how many you will need for your swimming pool.

The Solar Pod Plus are 31" (780mm) square, but due to the design offer more than twice the heating capabilities of a standard solar pod. The Solar Pod Plus also has a reflective base to increase heat gain to the absolute maximum. Installing the desired number of Solar Pod Plus into a small space is very achievable. Each Solar Pod Plus has two tilting legs to help achieve the perfect angle to the Sun. Solar Pods, as with any swimming pool solar collector heating system, should be faced due South.
Each Solar Pod Plus Kit Contains:
    Main Solar Pod Plus Base & Stand
    Reflective Underside For Optimum Heat Gain
    1.25" to 1.5" Hose Reducer
    Collared Tube Adapters & Gaskets (For Larger Intex Pools)
    Hose Clamps
    1 x 1m Hose & 1 x 380mm Hose
    Side Hose Connectors
    Clear Dome
    Solar Protection Cover
Solar Pod, Solar Pods Plus and Athena Sun Domes have become one of the most popular heating systems for swimming pool over the past few years as they are a quick, inexpensive and effective method for heating of your water. Each Solar Pod measures 580mm sq, Solar Pod Plus measure 780mm sq, both are easy to connect to any  filtration system.
Solar Pod Plus are capable of heating 9,000 litres of water and are designed to perform to a higher standard than the Solar Pods which are capable of heating 4,500 litres of water. Solar Pod Plus are larger in size, are double skinned and contain far more internal coil to produce more heat for your Swimming Pool. We also stock Athena Sum Domes which are a very similar, but more efficient product that can heat 7,500 litres per dome.
This Solar Heating System is suitable for all styles of pools, from the summer fun Intex style pools up to Inground tiled pools. Every Pod connects to each other in a series offering the most effective Solar Heating style. Use our sizing chart on the Specification page to decide how many you will need for your swimming pool.
 Specification:
Suitable for above ground and in-ground swimming pools
each Solar Pod is 580mm x 580mm Solar Pod Plus are 780mm x 780mm
Coil made of strong polypropylene
Solar Pod Dome made of strong transparent polycarbonate ( Greenhouse Effect )
Easy Connections
Connect multiple units for larger swimming pools
Solar Pods Works with existing pool pumps
Minimal tools required (Philips screwdriver and silicon lubricant)
Solar Pods Tilt to give you more direct sunlight
No servicing required (only when closing your pool)
Silver base on Solar Pod Plus to generate more heat
As with all swimming pool solar heaters, sizing is an estimation and can alter depending on local climate and strength of sun.