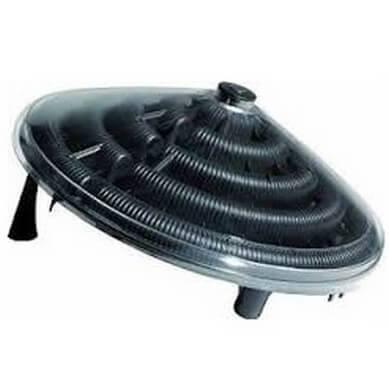 Athena GF Solar Heater Pod For Swimming Pools
by World Of Pools.com
Athena GF Solar Heater For Swimming Pools
7,000 Litres Heating Capacity
Easy To Install
Great For Intex Pools
Free Heat When The Sun's Out
Made In Italy
In Stock For Immediate Delivery
DELIVERY: Athena GF Swimming Pool Solar Heater Pods are sent out on a next working day service but all standard deliveries will be within 5 working days
RETURNS: Athena GF Swimming Pool Solar Heater Pods can be returned unused, in original packaging, suitable for resale, within 14 days from date of delivery. Returns should be sent via a "Signed For" carrier or post.


PRODUCT INFO:
Athena Sun Domes are a solar heating system that will heat your pool and save you a small fortune in heating costs. These heaters can be installed on above ground and inground pools as a single heating source or to supplement a current heating system. The Athena Solar Heating Pods are especially effective on above ground pools such as our wooden and doughboy pools and summer pools such as Intex and Bestway. Each Dome will heat up to 7,500lt of water. If you require more than two it is more effective to install in lines of two. For more information call us on 01322554870
Just use the sizing chart below to chose the right number of domes for your pool, if you opt for more than the required amount you will see a significant difference in pool temperature. Each Athena Dome will heat up to 7,500lt, this compared to just 4,500lts with the solar pods.
Heating calculations are based on continuous sun exposure for 10 hours, which should increase the water temperature, by the following:
One heater for 2,000lt +4c, 4,000lt +2.4c, 7,500lt +1.3c
Two heaters for 2,000lt +6c, 4,000lt +3.6c, 7,500lt +2.5c, 10,000lt +1.8c
Three heaters for 4,000lt +5.4c, 7,500lt +3.6c, 10,000lt +2.7c, 15,000lt +1.7c
Four heaters for 7,500lt +4.4c, 10,000lt +4.1c, 15,000lt +2.3c
The more domes you add the more heat you will produce, adding one or two more can make a significant difference to your water tempreture.
Athena Solar Sun Dome Heaters are an extremely effective way of heating your water for free using only the solar gain available from the Sun's strong rays. As gas and electric costs continue to soar using solar heating to heat your swimming pool has become almost essential, even if it is as an additional heat source to your main heating. During the peak summer season, having solar heaters adding free heat to your water could mean not having to use your electric or gas heater for up to a month. Those savings alone make installing solar heaters a must.
Athena Sun Dome Solar Heating Sizing Chart
Metal Framed      Above Ground Pools

Pool Size

Cubic Metres

Sq Feet

Number Of Athena Domes Suggested

10ft Diameter

4.70

78

1

12ft Diameter

6.70

108

1

15ft Diameter

13.50

176

2

16ft Diameter

14.80

200

2

18ft Diameter

22

254

3
Easy Set             Above Ground Pools

Pool Size

Cubic Metres

Sq Feet

Number Of
Athena Domes
Suggested

8ft Diameter

3

43

1

10ft Diameter

4

64

1

12ft Diameter

5.5

95

1

15ft Diameter

11

140

2

18ft Diameter

20.5

200

3
Permanent, Steel Wall Above Ground Pools

Pool Size

Cubic Metres

Sq Feet

Number Of Athena Domes Suggested

15' Diameter

14.4

170

2

18' Diameter

22.5

254

3

19' x 12'

19

204

3

23' x 12'

25

252

4

28' x 16'

45

409

6
Wooden Pools

Pool Size

Cubic Metres

Sq Feet

Number Of Athena Domes Suggested

4m Octagonal

14

150

2

5m Octagonal

22

237

3

6m Octagonal

30

323

3

Exercise Pool

10

108

2

4m x 5.9m Pool

23

248

3

4m x 6.9m Pool

27

291

4

4.6m x 8.2m Pool

36

388

5
Intex Pool

Pool Size

Cubic Metres

Sq Feet

Number Of 
Athena Domes 
Suggested

12ft x 20ft

14.8

170

2

12ft x 24ft

19.5

210

3

12ft x 28ft

22.4

258

3

 

 

 

 
Intex Pool

Pool Size

Cubic Metres

Sq Feet

Number Of
Athena Domes
Suggested

18ft x 9ft

14.9

160

2

24ft x 12ft

26.8

288

4

 

 

 

 

 

 

 

 
Inground Pools

Pool Size

Cubic Metres

Sq Feet

Number Of Athena Domes Suggested

20' x 10'

18.6

200

3

24' x 12'

26.76

288

4

28' x 14'

36.42

392

6

30' x 14'

39.20

420

6