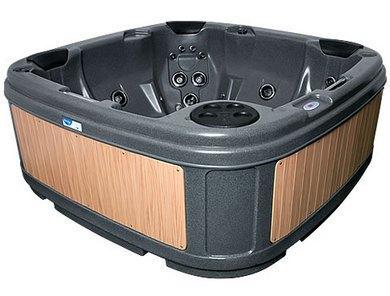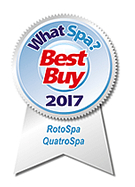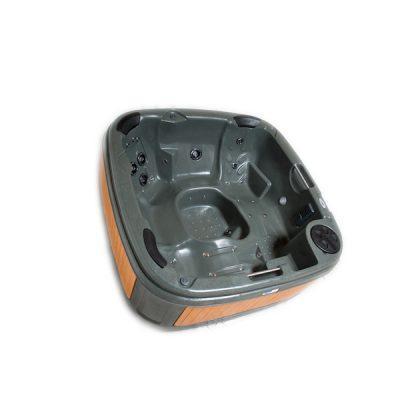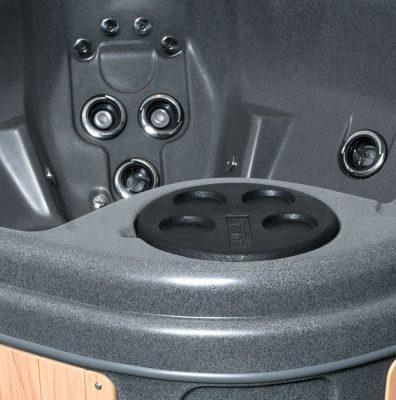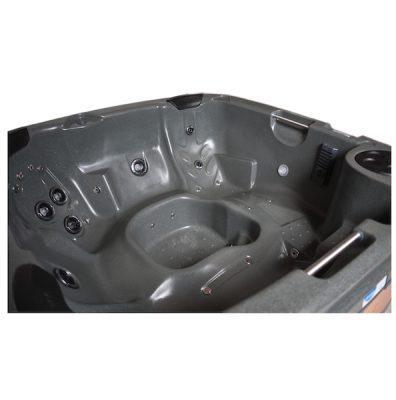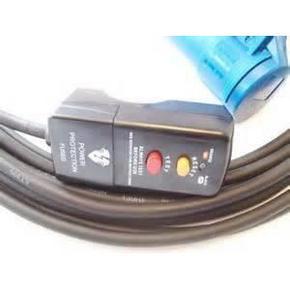 DuraSpa S380 5-6 Person Hot Tub - Granite Grey - Rotospa
by World of Pools.com
Duraspa S380 5-6 Person Hot Tub in Granite Grey
Price Includes Delivery & Installation
Fits Through Doorways
Free Upgrade Ozonator, Chrome Jets, Foam Headrests
Chemical Starter Kit
1990 x 1990 x 770 Deep - Fits through most doorways
Spa Colour

Granite Grey
DELIVERY: We aim to send all products out on a next working day service but all standard deliveries will be within 5 working days
RETURNS: This product is Made To Order and can not be returned as part of the Standard Returns Policy. .
PRODUCT INFO:
Free Installation on our 2021 Model Granite Grey DuoSpa S380 with Chrome Jets & Ozonator included. The Duraspa S380 is a truly portable, Top-Spec 5 – 6 person hot tub spa with 2 Loungers. The Duraspa S380 measures 1990mm x 1990mm x 770 deep. This generally allows the Duraspa S380 Hot Tub to fit through most household doorways.
We have this on display at our Shop so why not visit us and see this great looking hot tub
The New 2021 Granite Grey Duraspa S380 Now Includes Delivery & Installation, Chrome Jets & Ozonator as standard.
The Duraspa S380 Hot Tub is manufactured using a Roto mould technique making it light, strong, compact and attractive. Designed to fit through most normal doorways the Rotospa range of Hot Tubs The DuraSpa S380 has two loungers, one deep Captains seat, two hydrotherapy seats, a volcanic like air blower, foot massage jets and an entry step that doubles up as a raised child's seat, the Dura Spa 5-6 person Hot Tub Spa really does have similar power and performance to a hot tub that costs £'000s more.
Equipment

2.5hp Two Speed "SpaQuip" pump

2 kw heater

50 sq ft Top load high flow cartridge filter

1.5hp Multispeed Air Injection Blower
Spa System

20 x Luxury Hydro Chrome Jet Package including:

5 x 5" Roto Adjustable "Storm" Chrome Jet

3 x 3.5" Luxury Adjustable Chrome Jet

6 x Neck and Shoulder acupressure Chrome Jets

2 x Side acupressure Chrome Jets

4 x Foot acupressure Chrome Jets(2 adjustable)

18 x Multipoint air injector Chrome Jets around lower back and footwell areas
Controls
"Silent" air control system

(to adjust air stream in hydro jets)

Deluxe Digital Touch Pad control system 

MultiSpeed Air Control System
Accessories
Thermally insulated lockable hardcover 
Spa Colour

The Duraspa is designed and moulded in one piece generating soft flowing curves and rounded corners making for a very aesthetically pleasing look. The finishing touch are the four cedar panels that, on one side, remove to allow access to the pumps and heater.
The Duraspa's carefully designed shape contours to offer smooth, full deep seating all with natural reclining positions. The Duraspa has two loungers, three further active seats, one of which is a "Captains Chair" offering the best massage that we have been able to find in a hot tub of any price, as well as a "Cool Down" seat that also doubles as the entry step. Further features include a foot massage section, supporting armrests, padded headrests and contoured handrails.
The Rotomould design of the DuraSpa is an advanced RIM (Rotational Integrated Mould) moulding process that is used to form the spa, the surrounds and the base in one piece. This reduces the weight, increases the strength and lowers the cost with excellent heat and noise insulation. This same design has allowed for an Ipod jackpoint to be added that uses the Hot Tub body as the speakers.
One of the many benefits that the Duraspa has when compared to other Hot Tubs of a similar price is that the Rotomould design completely eliminates the rotting, delaminating, cracking, corrosion and osmosis problems that happens with all but the most expensive acrylic hot tubs. All in all the Duraspa really does offer best value for money.
Duraspa S380 is also avaliable in Midnight Blue, Light Grey & Sandstone
If you have any questions or concerns regarding the delivery please do not hesitate to call.
The two things you will need to do prior to delivery are to ensure that the Duraspa S380 will fit through access points, whether doorways or side access, (dont forget the hot tub doesn't bend) and have an electrician install a Commando socket, connected to a suitable power supply with the correct breaker. We will send you a "pre-delivery" checklist to help you through this process.

If you cannot get an electrician to install the Commando socket before the delivery date, but can't wait to use the hot tub, then we can offer an RCD Plug extension with a total of 5 metres of cable, to allow you to enjoy the hot tub until the electrician fits the hardwired connection.
All Rotospa Hot Tubs are produced in the UK and come with a Manufacturers 3 Year Shell & 1 Year Plumbing, Parts & Equipment Warranty
1000 - 1100 litres. (5 to 6 persons)
Weight - 130 kg Dry (1200 kg Filled)


Electrical -

Commando Socket - Hard Wired To Consumer Unit

Optional RCD Plug Extension For 13 Amp Sockets


Made In UK
Rotospa engineers will then deliver the Duraspa S380 hot tub for you. We would be happy to advise you on the necessary electrics and help with any access questions, just call us on 01322 554 870