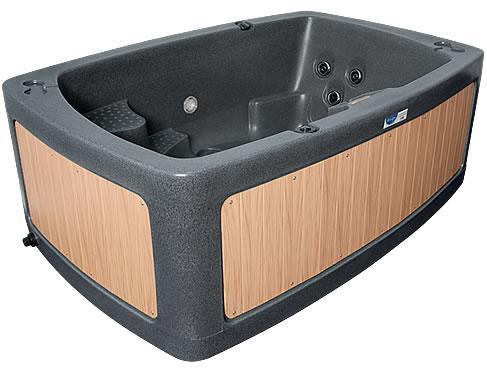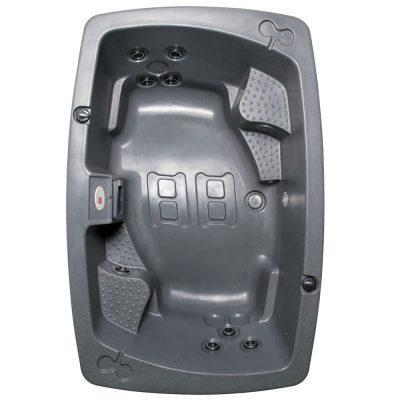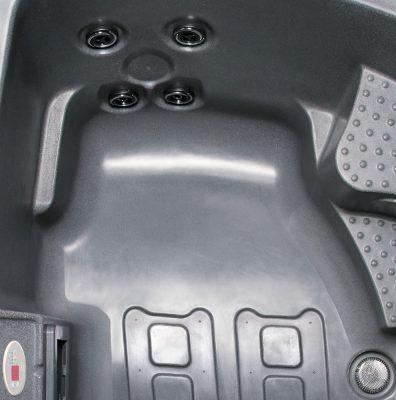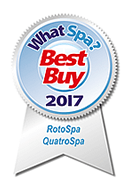 Granite Grey Duospa S080 2 Person Hot Tub
Fits Through Most Doors
Price Includes Delivery & Installation
Comes with Upgraded Ozonator, Chrome Jets & Foam Headrests

Size

1820 x 1210 x 700mm Deep - 

Fits through standard doorways!

Capacity

500 - 550 litres. (2 to 3 persons)

1.5hp Two Speed (2 pumps in 1)

Rotospa Manufactured In The UK
DELIVERY: DuoSpa are sent out via a specialist carrier. Delivery will normally take between 5-10 days, but please allow unto 2 weeks in some extreme cases.
RETURNS: Duo Spa Hot Tubs can be returned, in compliance with the Consumer Contracts Regulations, unused and in their original packaging, suitable for resale, within 14 days from date of delivery. Returns should always be sent via "Signed For" carrier or postal service.

When a return is received back into our warehouse our returns department confirm that everything is present and that the item is in its original condition, to make sure it is eligible for a refund. We will process the refund normally on the same day we take them in, but please allow up to a maximum of 14 working days for the money to reach your bank or credit card. It is unlikely to take this long but due to reasons such as bank delays or errors, this may occasionally occur.
PRODUCT INFO:
Free Installation and delivery on our 2021 Model Granite Grey DuoSpa S080 with Chrome Jets & Ozonator included. It is a high quality 2-3 person Hot Tub Spa with Two Recliner Lounger Seats and an internal step that doubles up as a child's raised seat and makes the DuoSpa an ideal Couples or small family Hot Tub Spa. The Granite Grey DuoSpa S080 is designed for modern houses and will fit comfortably through a standard sized door.
Duospa S080 in Granite Grey is a two seater hot tub from award winning Rotospa. The hot tubs are popular due to the build reliability and the ease of installation, borne out by the "What Spa 2016 and 2017" awards.We have this hot tub on display at our Bexley Pools and Hot Tubs Showroom, sale on now!
The New 2021 Granite Grey Duo Spa S080 has been upgraded to come with Ozonator, Chrome Jets & Installation and breaks the mould in its revolutionary design, meaning the Duospa S080 is affordable, attractive, light, portable and durable while providing world class hydrotherapy. Introducing a lifetime of luxury, hydrotherapy and relaxation to enjoy in the comfort of your own home or garden.
The Granite Grey DuoSpa S080 has a Unique Design with aesthetically pleasing flowing lines  and a superb finish, far in excess of any spa in it's price range. The Duospa S080 has 2 full depth naturally reclining seats with a world class hydrotherapy system and is made from an advanced manufacturing process meaning the Duo Spa S080 is formed in one durable, lightweight piece ensuring increased strength with unparalleled heat and noise insulation
The Duospa S080 in Granite Grey has an extremely lightweight shell weighing only 90kg so the DuoSpa S080 can be easily moved, lifted or slid into place by 1-2 people.  This along with the fact that the Granite Grey DuoSpa S080 is designed to fit through a standard sized door so there is no need for cranes etc when delivered makes it the ideal hot tub for areas with difficult access, where previously owning a Hot Tub was impossible.
Economical running costs mean that you can enjoy your Grey DuoSpa S080 at any time, simply take the cover off and immerse yourself in water temperatures of up to 40°c. A fantastic feeling after a long, hard day, particularly in those long winter months.
Massage away the stresses of the day in the Granite Grey DuoSpa S080 multi massage therapy seats, or relax and revitalise with the multi air injection system that adds millions of tiny energising air bubbles to the water behind your back, around your legs and under your feet and gives the most invigorating massage experience. With the demands of modern living you deserve the ultimate in home relaxation and comfort. You deserve The DuoSpa S080.
The Granite Grey Duo Spa S080 has aesthetically pleasing flowing lines, rounded corners, removable cedar side panels, and a smooth comfortable finish with a top of the range hydrotherapy system.
 N.B. : Installation service is included in the price for the Duospa, depending on site.
If you have any questions or concerns regarding the delivery please do not hesitate to call.
Please allow two to three weeks from date of order to delivery, please call us prior to placing an order so we can discuss delivery requirements.
The two things you will need to do prior to delivery are to ensure that the Granite Grey Duospa S080 will fit through access points, whether doorways or side access, (dont forget the hot tub doesn't bend) and have an electrician install a Commando socket, connected to a suitable power supply with the correct breaker. We will send you a "pre-delivery" checklist to help you through this process.

If you cannot get an electrician to install the Commando socket before the delivery date, but can't wait to use the hot tub, then we can offer an RCD Plug extension with a total of 5 metres of cable, to allow you to enjoy the hot tub until the electrician fits the hardwired connection.
Rotospa engineers will then deliver and install the Duospa S080 hot tub for you.
We would be happy to advise you on the necessary electrics and help with any access questions, just call us on 01322 554 870
Specification on the Granite Grey Duospa S080 is as follows
Size

1820 x 1210 x 700mm Deep - 

Fits through standard doorways!

Capacity

500 - 550 litres. (2 to 3 persons)

Weight - 

90 kg Dry (600 kg Filled)

Electrical -

Commando Socket - Hard Wired To Consumer Unit

Optional RCD Plug Extension For 13 Amp Sockets


Made In UK
Equipment

1.5hp Two Speed (2 pumps in 1)

2 kw heater

25sq ft high flow skimmer filter
Spa System

8 x luxury Chrome hydrojets package to include the following fully interchangeable jets set up as below


3 x 3" rotating Chrome massage jets

5 x 3" directional eyeball jets
Controls
2 x "Silent" air control knobs 

(to adjust air stream in hydro jets)

Digital Touch Pad control system 
Accessories
Thermally insulated lockable hardcover 

Ozonator
All Rotospa Hot Tubs are produced in the UK and come with a Manufacturers 3 Year Shell & 1 Year Plumbing, Parts & Equipment Warranty