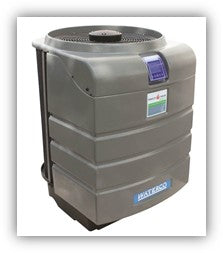 Waterco Aquaflow ECO V Inverter Swimming Pool Heat Pump
by Waterco
Waterco ElectroHeat Aquaflow Vertical Fan Inverter Heat Pump 
17kw & 24kw Inverter Heat Pumps
Indoor Installation Possible
Manufactured By Waterco Europe
March To October Swimming Season
2 Year Parts & Labour Warranty
3 Year Compressor Warranty & 10 Year Heat Exchanger Warranty
R410a ECO Friendly Refrigerant Gas
We Price Match & Have Stock For Same Day Despatch
DELIVERY: Waterco Aquaflow ECO V Inverter Swimming Pool Heat Pumps are delivered by a specialist haulier and take 1-3 days to arrive. 
RETURNS: Watercp Aquaflow ECO V Inverter swimming pool heat pumps can be returned unused and in the original packaging, suitable for resale, within 14 days from date of delivery. Returns should be sent via a "Signed For" carrier or post.

.

When we receive the Waterco Aquaflow ECO V Inverter Heat Pump, our returns department confirm that everything is present and in its original condition to ensure its eligibility for refund. We process refunds as quickly as possible. We process most refunds on the same day which they were received, but please allow up to a maximum of 14 days for the money to reach your account. It rarely takes this long, but can happen sometimes for reasons such as bank delays or errors.
PRODUCT INFO:
Waterco ElectroHeat 17kw ECO V Aquaflow Inverter  Heat Pump are made by Waterco Europe for swimming pools in Northern Europe. This allows accurate sizing for your pool in the UK.
One of the main benefits of the 17kw & 24kw Waterco ElectroHeat Aquaflow Inverter Swimming Pool Heat Pump, when compared to similar heat pumps, is that the Waterco Vertical Heat Pumps can be installed indoors, using the optional indoor venting kit. As it is not always possible or aesthetically appropriate to have the heat pump sited outside, this is feature could be extremely helpful.
All Waterco ECO V Aquaflow Inverter Heat Pumps come with a Smart Control system, allowing you immediate temperature control management along with the capability to self-diagnose the functionality of the heat pump. Along with the many in-built safety devices checking water flow, refrigerant level and the start-up delay of the compressor the ElectroHeat ECO V Aquaflow Swimming Pool Heat Pumps will provide years of simple and reliable pool heating. 
One feature found on the Waterco ECO V Aquaflow Heat Pump is the Powerful Titanium Dual Coil Heat Exchanger which increase water contact and thus, along with the extra-large evaporator, will increase heat output in your Waterco ElectroHeat ECO V Heat Pump above similar Brands of heat pumps. Also, the Titanium Heat Exchanger is highly resistant to the corrosive effects of most pool water systems, including ozone, iodine, Baquacil, salt and chlorinated water.
Every Waterco ECO V Heat Pump has a smart grey weatherproof cabinet, R410A Refrigerant Gas and 2 + 3 Years Residential Warranty
Waterco Aquaflow Heat Pump 
Power Input
Running Amps
Dimensions mm
Type C    Breaker Size
Weight

ECO V 57,000 BTU

17 KW

3.0 kW/hr
14

W 780

H  870

D  890

20 Amps
91kg

ECO V 78,000 BTU

24 KW

0.85 - 5.95 kW/hr
3.95 - 27.2

W 950

H  900

D  1150

32 Amps
120kg