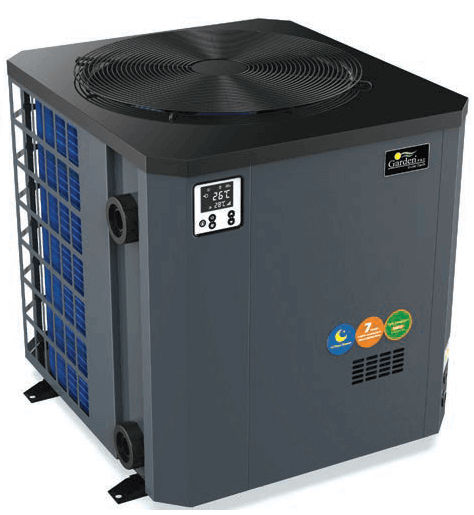 Garden Pac Vertical Invertech Turbo Inverter Heat Pump With WiFi
by World Of Pools.com
Garden Pac Vertical Invertech Turbo Swimming Pool Heat Pump With Wi-Fi 
"Turbo Boost" Option Gives 120% Output For Urgent Heating

2021 Models 6 Times Quieter Than Most Heat Pumps 
Inverter Heat Pump Technology - Complete Variable Speed - COP up to 15
Operates Down To -7

°

C - Heats Water Up To 40

°

C

- R32 Gas With Soft Start
Heats & Cools Water - Suitable For Holiday Homes - WiFi Controllable
7 Year Titanium Heat Exchanger & Mitsubishi Compressor Warranty
2 Years Parts Warranty
DELIVERY: Garden Pac Vertical Invertech Turbo Inverter Heat Pumps are sent out via a specialist carrier. Delivery will normally take between 1-3 days, but please allow 5 working days in some extreme cases.
RETURNS: Garden Pac Vertical Invertech Turbo Inverter Heat Pumps can be returned to us, in compliance with the Consumer Contracts Regulations, unused and in their original packaging, suitable for resale, within 14 days from date of delivery. Returns should always be sent via "Signed For" carrier or postal service.

.

When a returned Garden Pac Vertical Invertech Turbo Inverter Heat Pump is received back into our warehouse our returns department confirms that everything is present and that the item is in its original condition, to make sure it is eligible for a refund. We will process the refund normally on the same day we take them in, but please allow up to a maximum of 14 working days for the money to reach your bank or credit card. It is unlikely to take this long but due to reasons such as bank delays or errors, this may occasionally occur.
PRODUCT INFO:
Garden Pac Vertical Invertech Turbo Heat Pumps are designed for modern-day Swimming Pool Heating. Capable of both Heating & Cooling the swimming pool water they are ideal for Holiday Homes & Holiday Lets. Controllable by WiFi, allowing full access wherever you are in the world. Buy now for a Next Working Day delivery.
The new 2021 model Garden Pac Vertical Invertech Turbo Heat Pumps takes inverter heat pump technology to the next level, having a Turbo option for when speedy heating is required. The Vertical Waste Fan allows for siting near the pool without cold air being blown onto bathers, or sunbathers alike. Each Heat Pump also comes with a Wi-Fi connection, controlled using a Smart Phone App.
Each Garden Pac Heat Pump has a Twin-Rotary Mitsubishi DC Inverter Compressor. This innovative technology is based on the "Twin Mechanism" solution where two rotors work in sync to reduce the shaking, found in all heat pumps caused by the compressor, by balancing the torque, along with a DC brushless fan motor, with low noise and very low power usage. This has the benefits of not only an exceptionally quiet operation but also extremely high efficiency. 
The Garden Pac Vertical Invertech Turbo Heat Pump the unit will operate down to -7 degrees, although heat output will obviously be restricted at this temperature. During the main Summer months with an air temperature of  26° C, the Garden Pac can offer a COP of up to 15 and has the capability of heating pool or spa water up to 40°C.
The Garden Pac Vertical Invertech Turbo heat pump will be able to offer you a 12 Month  Swimming Season or just an Extended Season swimming pool heating system. It is all dependant on the sizing of the Heat Pump. So, if you require an Ultra Quiet, Super-Efficient heat pump for all year round use or only to extend the Summer season call us to help you decide which Garden Pac Invertech is best suited for your needs.
As your Swimming Pool Heat Pump should be a long term investment it is important to not only look at the price but also the quality. Although the Garden Pac Vertical Invertertech Turbo Heat Pump is dearer than standard heat pumps it has technology and component quality, Mitsubishi compressor for example, that other heat pumps do not have. You will want your Heat Pump to last a long time and work when you need it to, so it makes sense to buy one that is at the forefront of technology when you do. 
The Garden Pac Vertical InvertechTurbo Inverter Heat Pump functions in temperatures as low as -7° Celsius, but as with all heat pumps they operate most efficiently when the air temperature is above 15° Celsius, providing a cop of up to 15 when the air temperature is at a balmy 26° Celsius. It is important to remember that the Garden Pac will draw the warm ambient air temperature from the sides of the unit and blow the cold waste air vertically from its fan. This means the Heat Pump requires less space around it than side-mounted fan models.  We would recommend a minimum of 300mm clearance all round and at least 3 metres above it. The Garden Pac Vertical Turbo should not be enclosed in a shed or other structure restricting air-flow to and away from the unit. 
You may not require your pool heated in low temperatures but having a heat pump that will not freeze up or cut off at 10° or 5° degrees can be a huge benefit, as April and October mornings may be a lot cooler, even though you may not be using your pool you will still need to heat it to be able to use your pool in the afternoons when it is sunny and warm. 
If you require help sizing a heat pump for your pool please call us on 01322 554 870
Model

Heating Capacity At Air 26°C

Heat In Booster Mode

 

Air 26

°C

Max Pool Size (m3)

 Heating Capacity At Air 15°C

Heat In Booster Mode Air 15

°C

GHD-150-0300

13.3kw

13.3kw

16kw

35-65 m3

9.7kw

11.74kw

GHD-150-0301

17kw

17kw

20.4kw

40-75 m3

12.5kw

15kw

GHD-150-0302

21.9kw

21.9kw
26.3kw
50-95m3
16kw
19kw