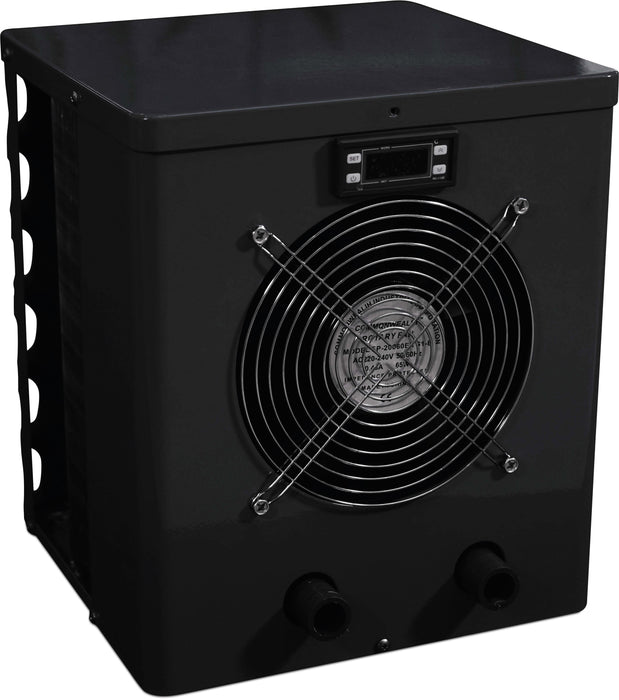 Flotide ECO 3kw A3/32 Plug & Play Above Ground Pool Heat Pump
by World of Pools.com
Flotide ECO 3kw A3/32 Swimming Pool Plug & Play Heat Pump
Heats Your Pool Up To 30°C
Works When Air Temperature Is Over 12°C
Heat Pump For Intex, Bestway & Other Above Ground Pools
Suits Pools Up To 12ft x 36"
2 Year Warranty
DELIVERY: Flotide ECO 3kw A3/32 Plug & Play Above Ground Pool Heat Pumps are sent out via a specialist carrier. Delivery will normally take between 1-3 days, but please allow 5 working days in some extreme cases.
RETURNS: Flotide ECO 3kw A3/32 Plug & Play Above Ground Pool Heat Pumps can be returned to us, in compliance with the Consumer Contracts Regulations, unused and in their original packaging, suitable for resale, within 14 days from date of delivery. Returns should always be sent via "Signed For" carrier or postal service.

.

When a return is received back into our warehouse our returns department confirm that everything is present and that the item is in its original condition, to make sure it is eligible for a refund. We will process the refund normally on the same day we take them in, but please allow up to a maximum of 14 working days for the money to reach your bank or credit card. It is unlikely to take this long but due to reasons such as bank delays or errors, this may occasionally occu
PRODUCT INFO:
The Flotide 3kw A3/32 Plug & Play Heat Pump is perfect for pools up to 10m3, such as an Intex 12ft x 36" Metal Frame Pool. Only suitable for pool heating during the main Summer months. A Solar Cover must be used too. Buy Now For Same Day Despatch.
Flotide 3kw A3/32 Plug & Play Heat Pumps For Above Ground Pools are designed purely for the small above ground pool market. Intex, Bestway & Summer Escapes pools are perfect for this heat pump
The Flotide 3kw A3/32 Plug & Play Above Ground Pool Heat Pump requires 0.68kw of power to produce 3.1kw of power out. That is roughly 10p an hour to get the equivalent of 41p of heat from the Eco 3kw Heat Pump into your pool making it so much cheaper to run than an electric pool heater.  You could even recoup the outlay in the first year in savings on your electricity bill.
The minimum Flow rate from your pool pump is 2m3/hr to start the ECO 3kw Plug & Play Heat Pump For Above Ground Pools. Most Intex & Bestway pumps exceed this but check before buying
Digital Heating Control Panel - Control Heating Up To 30°C
No ByPass Required if using small Intex pumps
The Flotide 3kw A3/32 Heat Pumps are designed to heat Pool water slowly but very cost-effectively. It can raise your pool from cold to warm in 2 - 3 days, but from then on it is just a matter of keeping the heat level topped up every day. Depending on the weather you may need to run your heat pump from between 4 - 10 hours a day.
A Good Quality Solar Cover Must be Used With This Heat Pump to preserve as much heat as possible at night.
The Flotide 3kw A3/32 Plug & Play Above Ground Pool Heat Pump is suitable for pools up to 10m3
Flotide Plug & Play 3kw A3/32 Heat Pump User & Installation Manual
Below are suggestions for above ground pool sizes that the ECO 3kw A3/32 Plug & Play Above Ground Pool Heat Pump is suitable for
10ft x 30 inch Metal Frame Pool
12ft x 36 inch Metal Frame Pool
8ft x 30 inch Easy Set Pool
10ft x 30 inch Easy Set Pool
12ft x 30 inch easy Set Pool
12ft x 36 inch Easy Set Pool
 
ECO 3KW Plug & Play Heat Pump
Power Supply
220-240V 1Ph 50Hz
Heating Capacity
 Air 26

°C / Water 27°C

3.1KW
Heating Capacity 
Air 15

°C / Water 27°C

2.2KW
Input
Air 26

°C / Water 27°C

0.68KW
Input
Air 15

°C / Water 27°C

0.61KW
Current

Air 26

°C / Water 27°C

3.1 AMPS
Current

Air 15

°C / Water 27°C

2.8 AMPS
C.O.P.

Air 26

°C / Water 27°C

4.41
C.O.P.

Air 15

°C / Water 27°C

3.61
Maximum Input
0.95KW
Maximum Current
4.7 AMPS
Nominal Water Flow
2 m3/hr

Max Pool Size

(With Quality Cover)

10m3

Water Connection Size

32mm / 1.25"

Dimension (LxWxH)

mm
310 x 300 x358

Weight

24kg